Full Review of Sunday Scaries CBD Products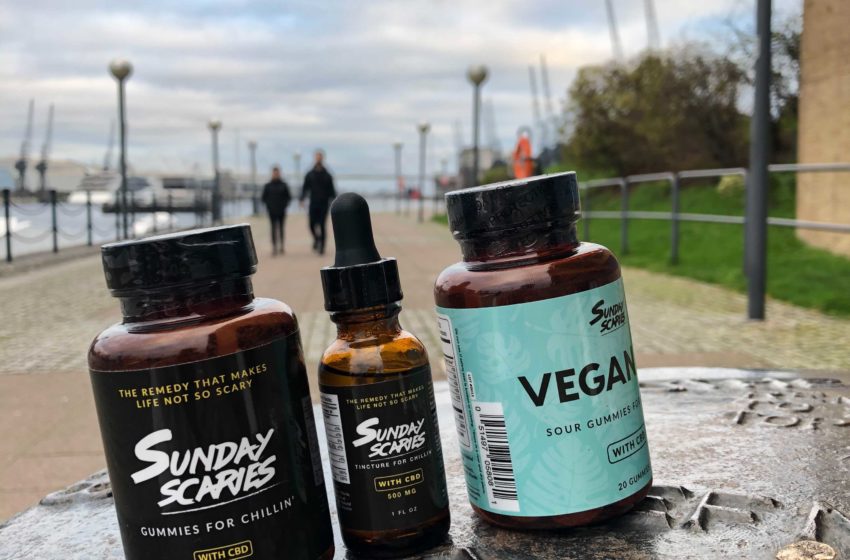 In this article, I'll be reviewing Sunday Scaries CBD products including CBD Gummies, Vegan CBD Gummies, CBD Oil Tincture, and CBD Candy.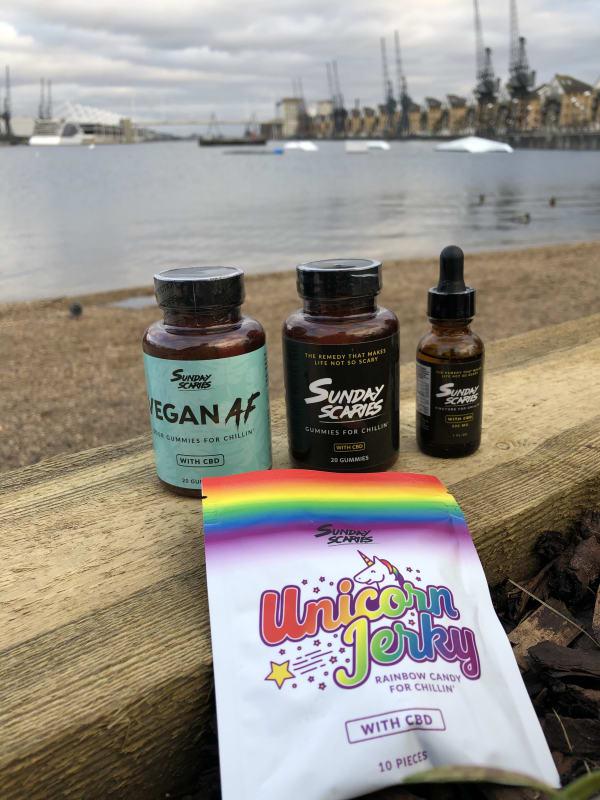 Being a huge CBD fan, trying out CBD products to create awareness about the reliable ones is something I'll never get tired of. From the dozens of brands that I have tried before, Sunday Scaries, the name alone gave my stress chills. How? You'll know in a while.
Before that, I'd like to introduce you to my new favorite CBD brand – Sunday Scaries.
The Brand And Its Masterminds
Sunday Scaries was established in 2017 by two most humorous and kind-hearted human beings who wanted to give their nation a stress-free and healthy lifestyle – Mike and Beau. They started as bar owners who invested everything they had in their business and had to work for countless hours for comparatively a very little gain in return. For the hard work, they had to put in their business, they got almost nothing against it.
While struggling to gain a balance between their work and personal lives amidst extreme stress and worries, they came across CBD. It helped them cope with their difficult work-life and didn't take them long to maintain the balance they were longing for. This encouraged them to help others who were also struggling with their lives and were forced to take anti-stress pills. Sticking true to the purpose, Mike and Beau, came up with Sunday Scaries to give people a new taste and perspective towards CBD.
Sunday Scaries Detailed Product Reviews
Sunday Scaries CBD Gummies
The CBD Gummies are one of the most sought-after products by Sunday Scaries. Before trying it out myself I saw tons of people sharing about it all over the internet which really raised my expectations towards it.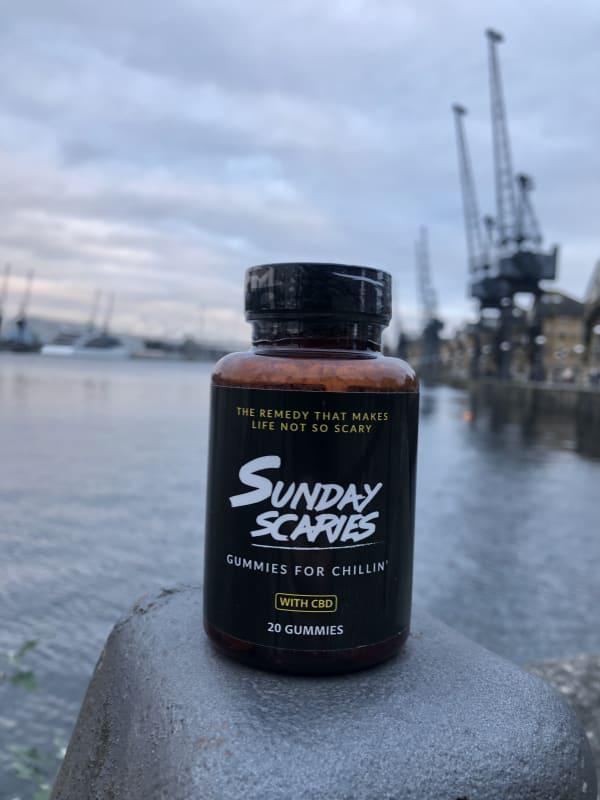 I tried taking two gummies at a time as per the recommendation given by the brand itself. It was quite chewy and sweet. The mild sweetness clearly proved the absence of artificial sugar, which ensures a healthier outcome than other products that are sweeter but not as healthy.
The gummies contain broad-spectrum CBD oil, coconut oil, and pure sugar cane. Not only that, but they also contain vitamin B12 and D3. These two vitamin forms make these a must-have for every CBD user. Vitamin B12 contributes to a calmer nervous system that ensures the growth and regeneration of nerves that makes one more focused and less tired. Vitamin D3 improves the immune system and protects the body from different kinds of diseases.
It really took 20-25 minutes to calm me down completely. I felt more relaxed and focused which helped me with the repertoire of tasks awaiting me. Since the bottle is easy to carry, I kept it in my bag all the time.
Sunday Scaries Vegan CBD Gummies
I will be totally honest here, these vegan CBD gummies looked so tasty that I got a bit skeptical about their ingredients. And I was not wrong, they were actually quite tasty, especially their sour coating which gave them a tongue-twisting flavor. These sugar-coated, multi-flavored gummies not only taste as good as they look, but they are also one of the best CBD products out there in terms of the relaxation they provide.
The fact that these gummies come in different flavors, makes them even better. These flavors include lime, lemon, cherry, and tangerine – every flavor I need to freshen up.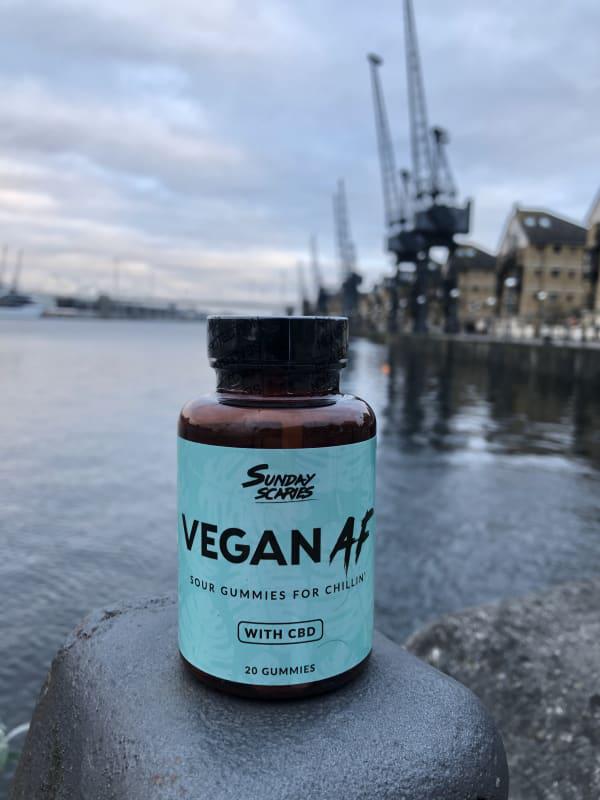 The bottle contains 20 gummies that offer a total mg 200 mg CBD. Each gummy contains approximately 10mg of CBD which is enough for someone like me who consumes less amount of CBD. The recommended dosage is 2-3 gummies a day at almost any time you feel frustrated or stressed. I used to take 2 gummies most of the time, but I did try taking 3 once and the results were awesome, perfect for a high-consumer unlike me.
A close look at the packaging revealed that these sugar-coated gummies contain Vitamins B12 and D3 along with sugar cane extract, fruity flavoring, and coconut oil. Upon taking one gummy, I could feel my mind relax. I took one dose after a hard day at work, and it did wonders. Not only was I able to relax and clear up my mind, but I also had a proper peaceful sleep after a long time.
These vegan CBD gummies have become my go-to product because of these qualities combined with their unforgettable taste. Plus, they give me the confidence that I am not hurting any poor animal while enjoying a stress-free life.
CBD Candy (Unicorn Jerky)
This candy right here is my absolute favorite. This rainbow-colored, sugar-coated CBD candy is a must-try product for every CBD user out there. Each candy contains around 10mg of CBD along with crystallized sugar, corn syrup, and coconut oil.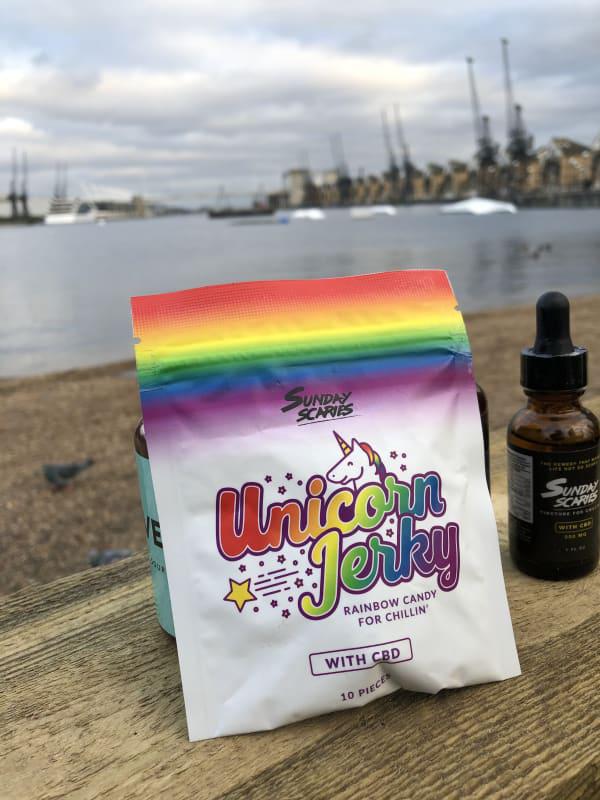 The candy not only tastes good, but it looks really attractive as well. The sweet flavor burst makes it even more likable. And when you come to think of it, this will make a perfect party gift as well. I personally feel that this is the candy that fits my taste while being equally effective in releasing my stress.
Everything from the packaging to the looks and taste is perfect. I have even suggested this candy to a few friends right away as they were in search of something exciting to relieve daily stress.
Talking about the relaxing effect, I tried this candy after giving a tough presentation at work, and it did its work instantly – taking away the stress I had 20 minutes earlier. Then I tried it at different times during the day mostly in the evening when I had to socialize or needed some quality time alone with myself.
Here is the biggest factor that needs acknowledgment – the social cause. This candy has been dedicated to people who commit suicide for whatever reasons. Society is full of negativities that push people to take their lives and it is cruel. Mike and Beau, the founders themselves lost a loved one to suicide. Thus, they decided to help others. On every sale of the CBD candy, the company donates £1 to The Trevor Project. The project is working to save young LGBTQ lives and provide them a positive future.
Sunday ScariesCBD Oil Tincture
Sunday Scaries CBD oil is a highly effective and personalized way of consuming CBD. Unlike other CBD products, I didn't have to swallow them separately instead I added them in my favorite shakes and smoothies and enjoyed a CBD beverage. I also tried it with water and all it did was add a slight coconut taste to it, but I liked it better with smoothies. Drinking it separately should also not be any difficult but I didn't try that.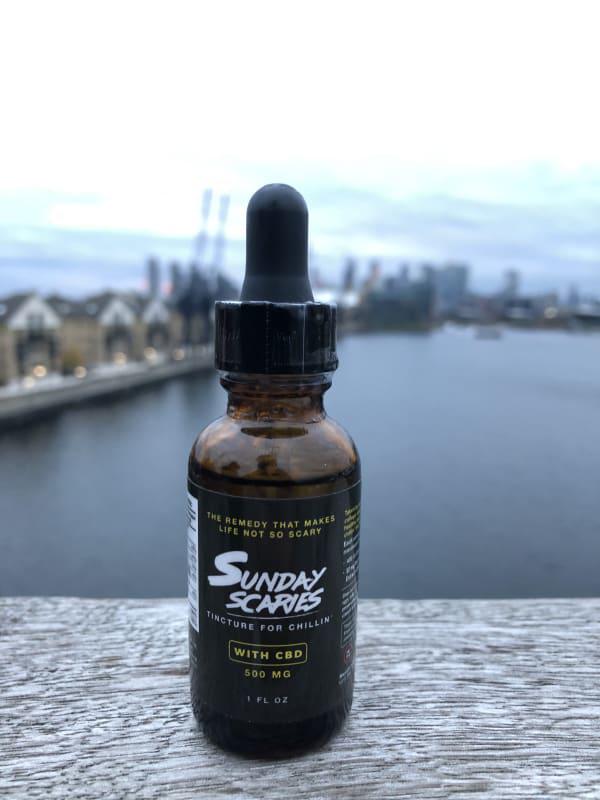 It's worth mentioning that I have never come across a CBD oil with such a mild yet balanced taste while being completely organic. This CBD oil is composed of organic coconut oil, broad-spectrum CBD extract, vitamin B12, and vitamin D3. The vitamin content adds a good healthy boost to the oil. Vitamin B12 improves the nervous system by regenerating nerve cells while vitamin D3 boosts the immune system which protects the body from various diseases.
The bottle contained a total of 500 mg of CBD which can be easily managed through the dropper. The dropper can take a maximum of 30 mg in one go, which I tried once after a very hectic day at work when I knew a sound sleep would be impossible. That was when that 30 mg came like a blessing to me, the rest of the week 10mg or 1/3 of the dropper did it all.
Conclusion
Sunday Scaries is an efficient CBD brand with some excellent purposes. It has strong social ties and tends to make the community a better place for all living beings to reside. It has introduced CBD candy to encourage people to indirectly contribute to preventing suicides. Although the contribution might seem little, it means a lot and I am pretty sure it does make a change. It's time we stop assuming and start doing good.
The refreshing and juicy vegan gummies provide a healthy, confident, and stress-free life while protecting the poor animals who are being cruelly used for the production of so many products worldwide. The CBD oil was quite effective in relieving post-work stress before bedtime, which also contributed to nights of quality sleep and energetic mornings. It can be easily added to any beverage and the dropper makes it almost zero-trouble to consume. The CBD gummies are also an effective way to a healthy and stress-free life. The colorful gummy with different flavors takes away all the stress like it was never there. Thereby, Sunday Scaries is an all-rounder CBD company that I will highly recommend to you all!
Latest posts by Ekaterina Mironova
(see all)