Detailed Review of the Thrive Flower CBD Products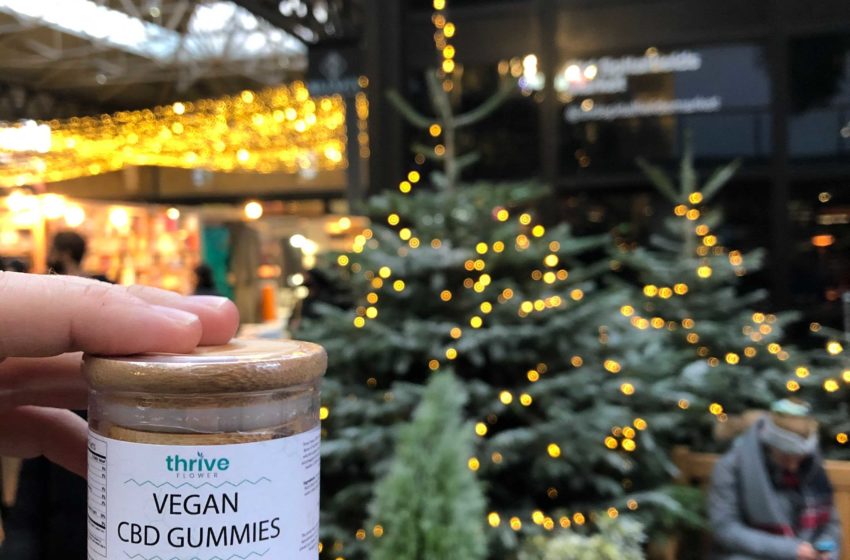 In this review, I'll be reviewing Thrive Flower's wide range of CBD products. These include CBD Pain Relief Salve, CBD Lotion, CBD Muscle Gel, CBD Dog Treats, CBD Flower, CBD Gummy Bears, CBD Oil for Pets, CBD Vape Pen, and Full Spectrum CBD Oil.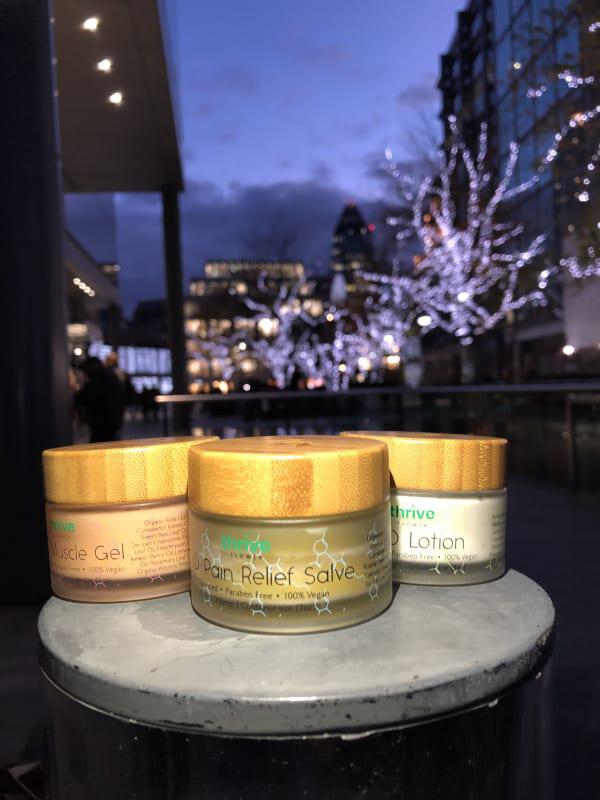 About Thrive Flower
With CBD products quality assurance and certification is super important. Consuming just any CBD is not an option. But in a pool of hundreds of brands finding the best one can be difficult sometimes. While searching for a reliable brand I luckily came across Thrive Flower which seems to have known and answered my concerns already. It's a Philadelphia-based company shipping their amazing products all over the country.
The company is dedicated to the betterment and wellbeing of the community through CBD. All of its CBD products are third party tested and their reports are available online. Moreover, they are paraben-free, THC-free, non-GMO, and 100% vegan. Not only that, but they are also loaded with a ton of other oil blends and organic products.
In-Depth Review Of The Thrive Flower CBD Products
CBD Pain Relief Salve
Thrive Flower CBD Pain Relief Salve is quite effective on all muscle pains. I applied a very small amount on my back and lower leg muscles and it only took a few minutes to literally take all the pain away. The 2oz container holds 1000 mg of CBD in total, which explains its quick effect.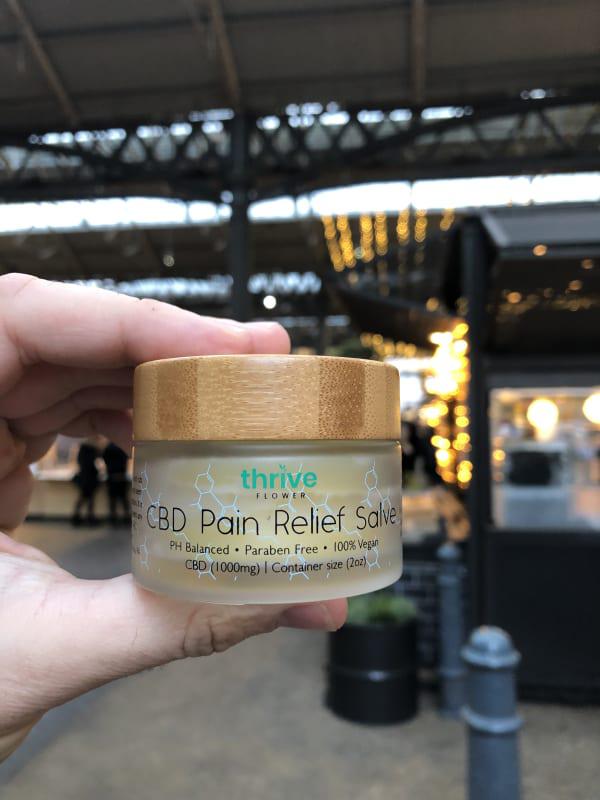 I felt my skin softer and moisturized after applying the salve which had me checking its ingredients. The shea butter, tea tree leaf oil, and chamomile flower oils are the main constituent responsible for soft skin. The presence of lavender oil explains the light and sweet fragrance.
Here is the best part, the salve is 100% vegan and paraben-free. Plus, it does not have even the slightest amount of THC.
Thrive Flower CBD Lotion
Who knew life could be so healthy that we'll be applying CBD lotions? Thrive Flower has made it possible. Its CBD lotion is one of the healthiest body lotions one can ever find. It is made up of Cannabidiol Isolate, Glycerin, Lanolin Oil, Carbomer, Methylparaben, Aloe Vera Gel, Vitamin A, Vitamin D, and a dozen other amazing constituents. The best part is that it is 100% vegan, paraben-free, GMO-free, and THC-free.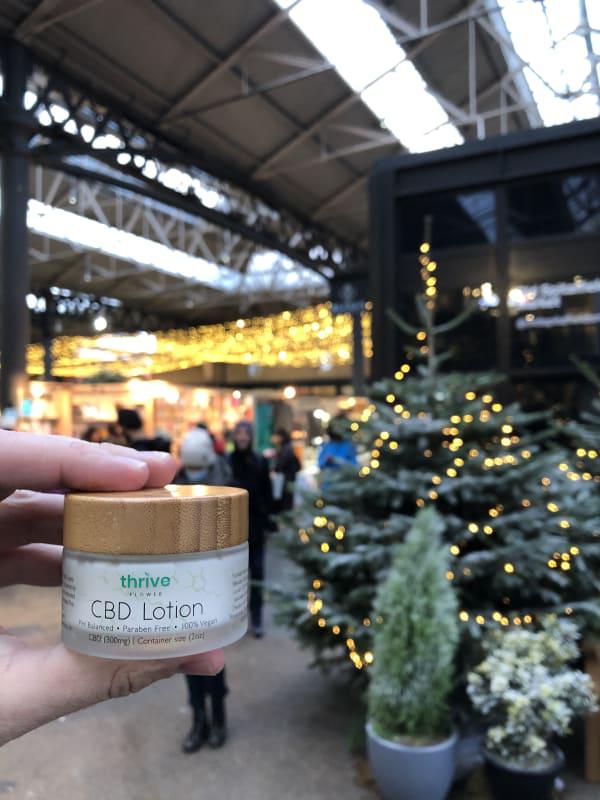 The 2oz container is loaded with 300 mg of CBD that penetrates the skin to rejuvenate it like never before. I literally felt my skin glowing. It felt hydrated for longer than ever. I didn't have to re-apply it any time sooner than 3-4 hours which was quite helpful for me. Since the container is travel-friendly and can easily fit in my bag I carried it around to reapply whenever needed.
CBD Muscle Gel
Thrive Flower CBD Muscle Gel has become my all-time favorite muscle gel. It comes in a beautiful small (2oz) container that is not only attractive but also quite travel-friendly. I can easily keep it in my bag just to kick away the pain if it decides to show up at the wrong hour.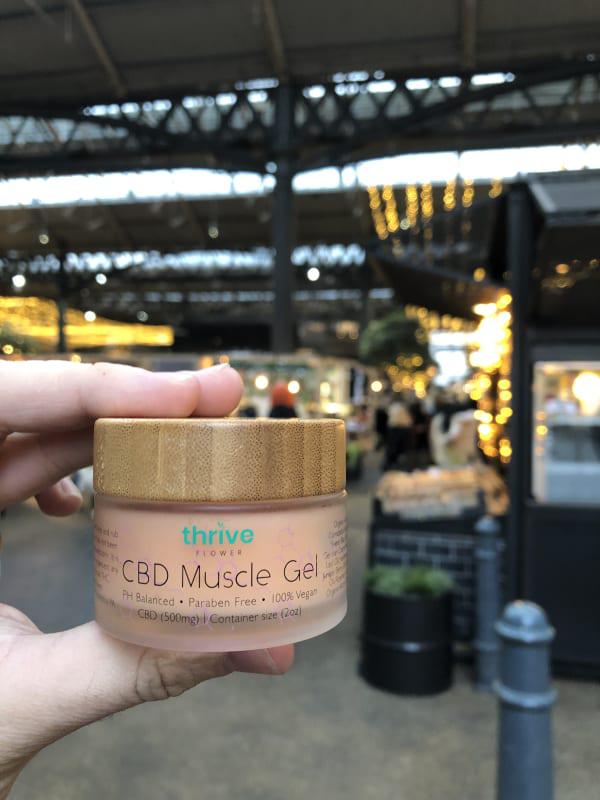 The container is loaded with 500 mg of CBD which when applied to the targeted area works quicker than any other muscle gel you'll find in the market -coming from an experienced muscle gel user that shouldn't be hard to believe but you can always give it a try.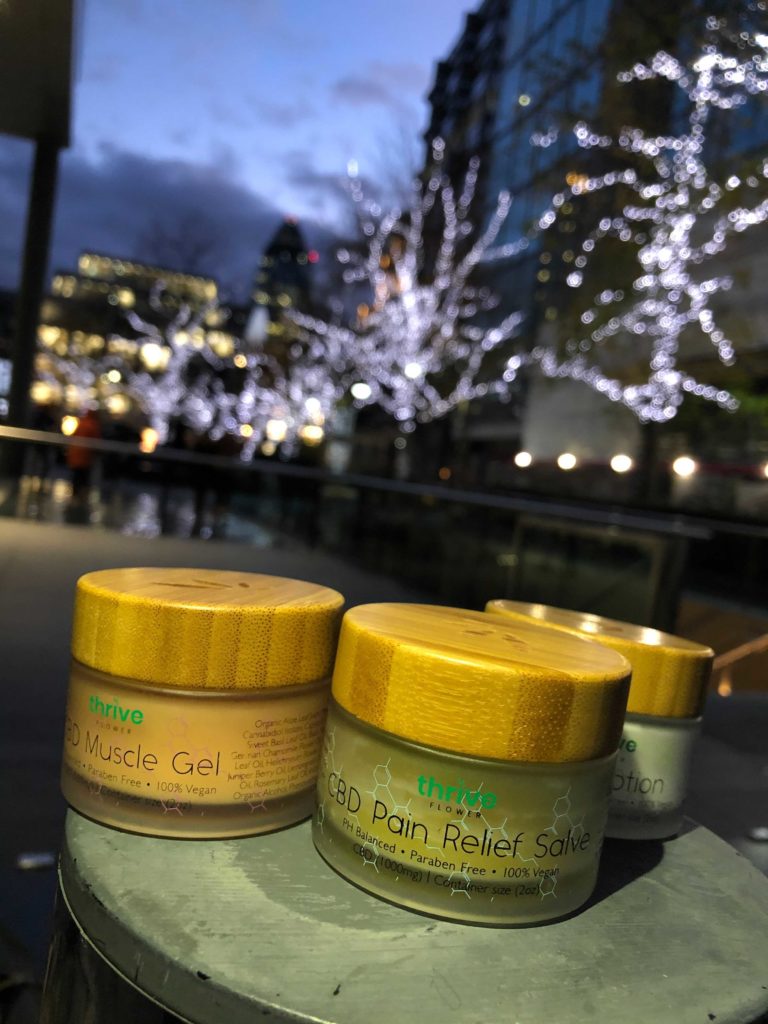 The gel also left a cooling effect on my skin which fought possible irritation and itching. Moreover, it is paraben-free, THC-free, and 100% vegan.
CBD Oil
Coming home from one of the worst days at the office, I decided to try Thrive Flower CBD Oil. My coworker has once vouched for it, but I did not have high hopes because my experience with CBD oils was not really good but oh boy was I wrong. This CBD oil did wonders and in a matter of minutes I had a clear head, and I remember sleeping like a baby.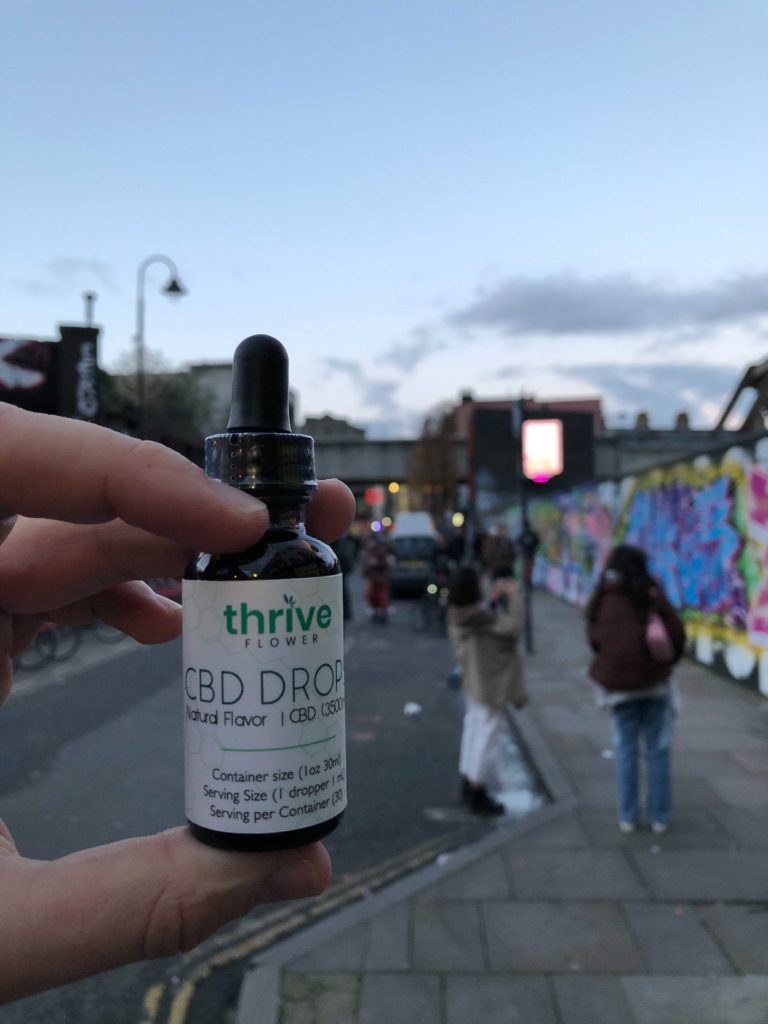 The best part of this oil is not only the wonderful effect but the amazing taste it has, thanks to the coconut oil it contains. A few drops were enough to kick away all my worries, leaving me relaxed and calm.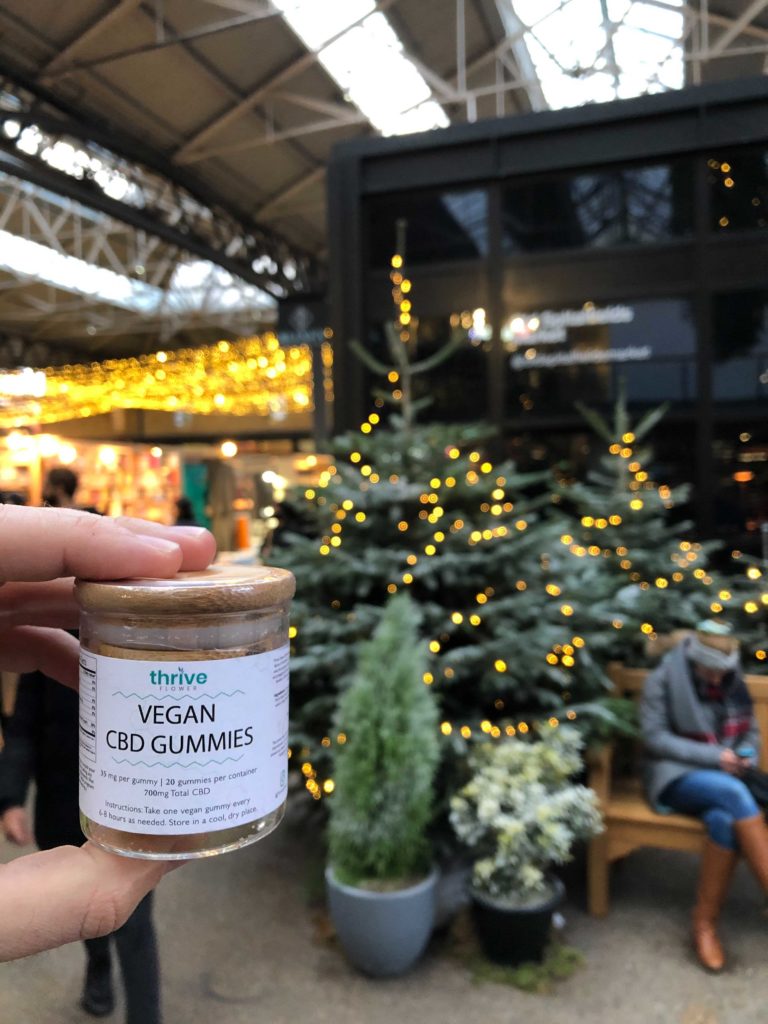 It is available in different strengths including 750mg, 1500 mg, and 3500 mg for different strength consumers. I got 750mg which I am quite thankful for as I am a low-strength consumer. I usually took 1-2 drops directly without mixing in food or beverage and I'd highly recommend that because of the tropical coconut flavor.
CBD Dog Treat
Thrive Flower CBD Dog Chews are the best treats I could ever give my dog. He absolutely loved them and kept asking for more. My dog is quite picky about his food but these chews instantly became his favorite.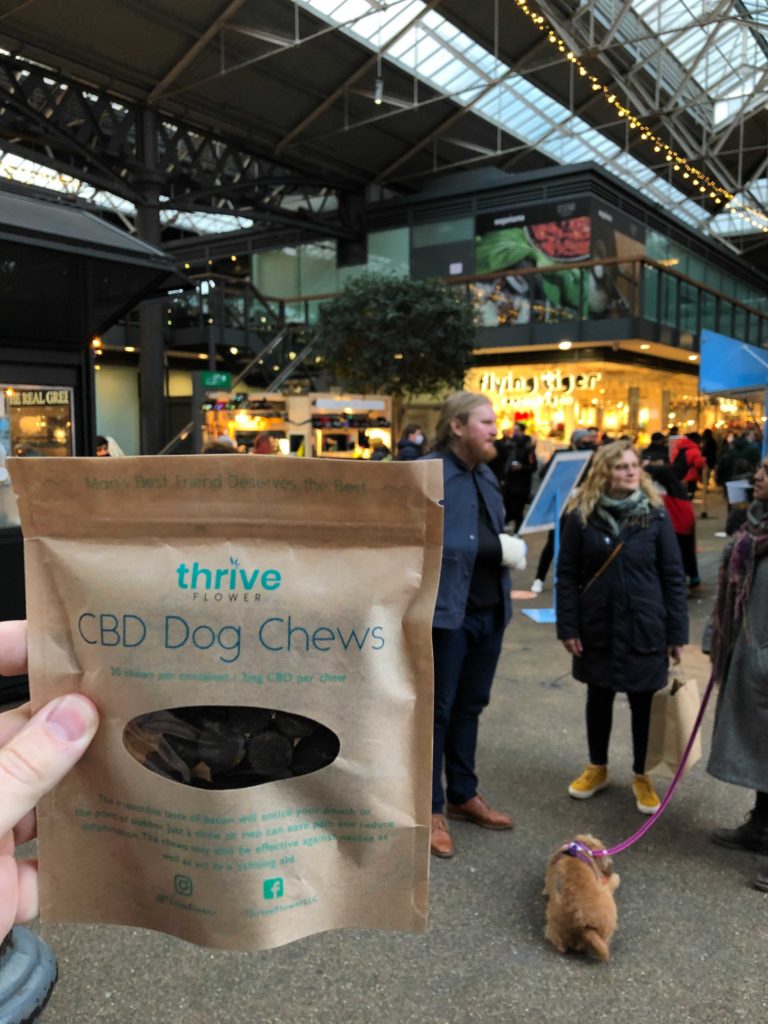 The pouch has 30 chews each of which has 2 MG of CBD which makes a total of 60 MG of CBD per pouch. According to my research and expert suggestions, this is an appropriate dosage for my dog. The treat also contains a powerful blend of some other organic products that make it even more healthy for my furry friend. I must mention how manageable the pouch is; it is easy to open and close without losing the freshness of the treats. The best part is that this product is non-GMO, THC free, paraben-free, and hundred percent vegan.
CBD Gummy Bears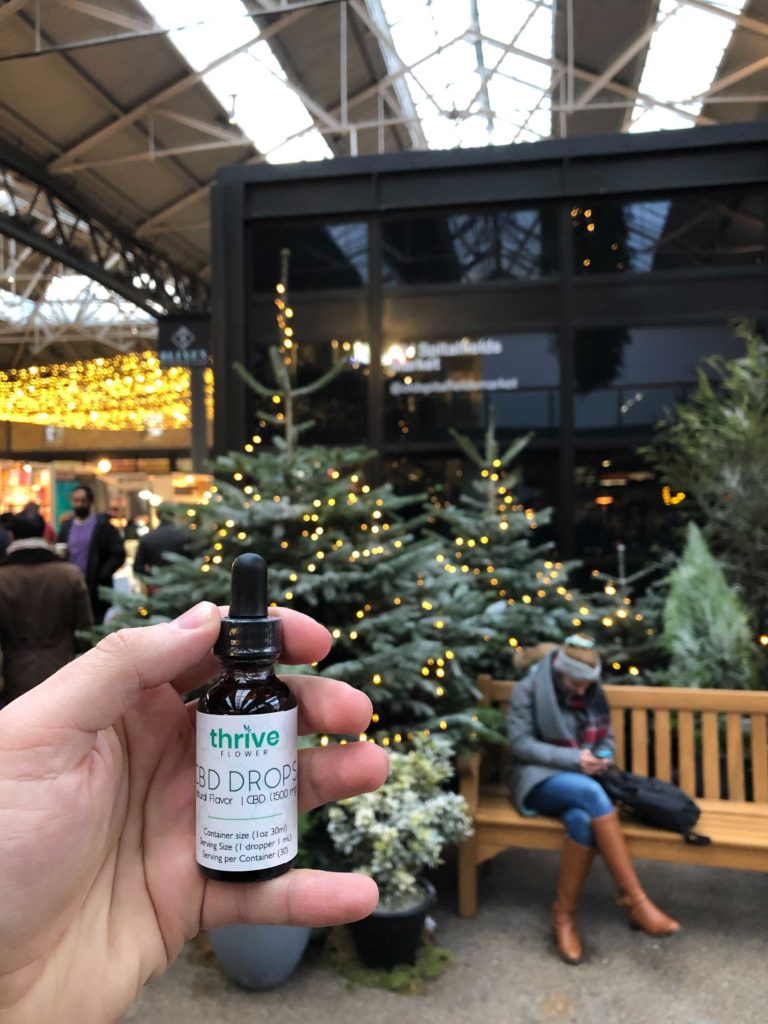 Thrive Flower's CBD gummy bears blew me away from just having a look at the overall texture of the gummy bears. The CBD Gummy bears are packed with a whopping 1750 mg of CBD per jar, and each gummy contains exactly 35 mg of pure CBD.
The 35 mg of CBD per gummy is more than enough to get all of your day's stress, and anxiety away. Moving forward to the actual review, I popped one gummy bear and instantly felt a luscious orange flavor.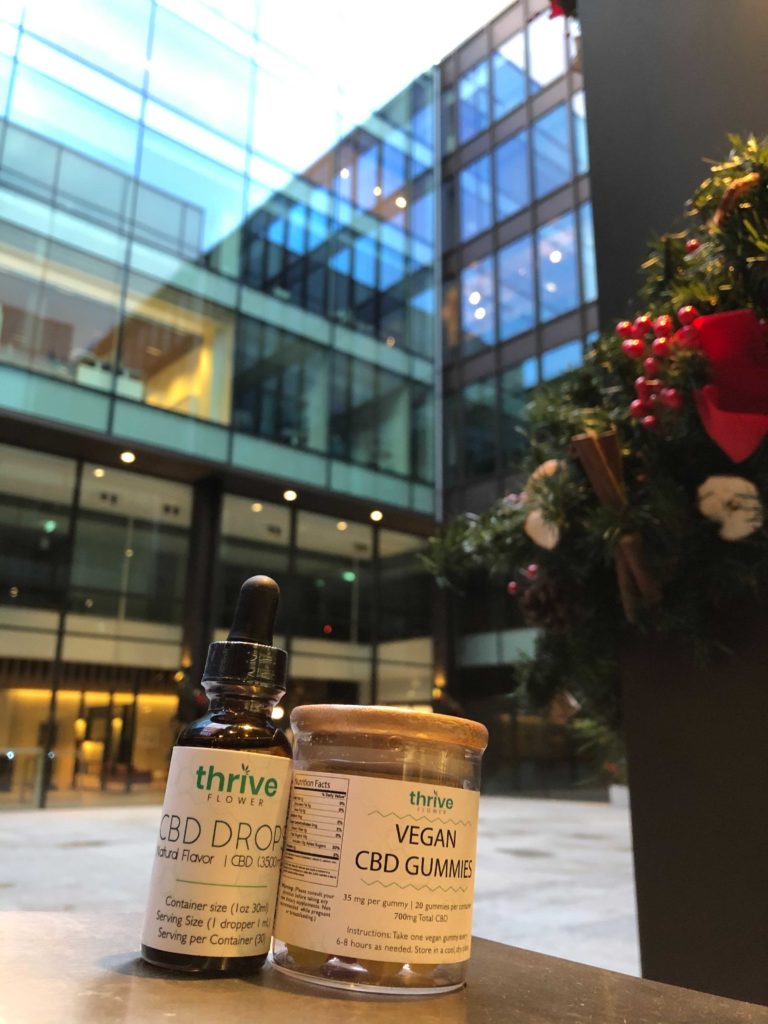 The flavor itself was long-lasting, and when it came to the results of the CBD gummy bear, I felt much at peace within roughly 25 minutes. These are multi-colored, and each color has a unique distinct flavor, including lemon, orange, and strawberry.
CBD Vapor Or Vape Pen
I've frequently used CBD e-juices and have always been a fan of smoking CBD through inhalation. CBD through inhalation has more efficient results, and all you need to get rid from your stress is just a few puffs.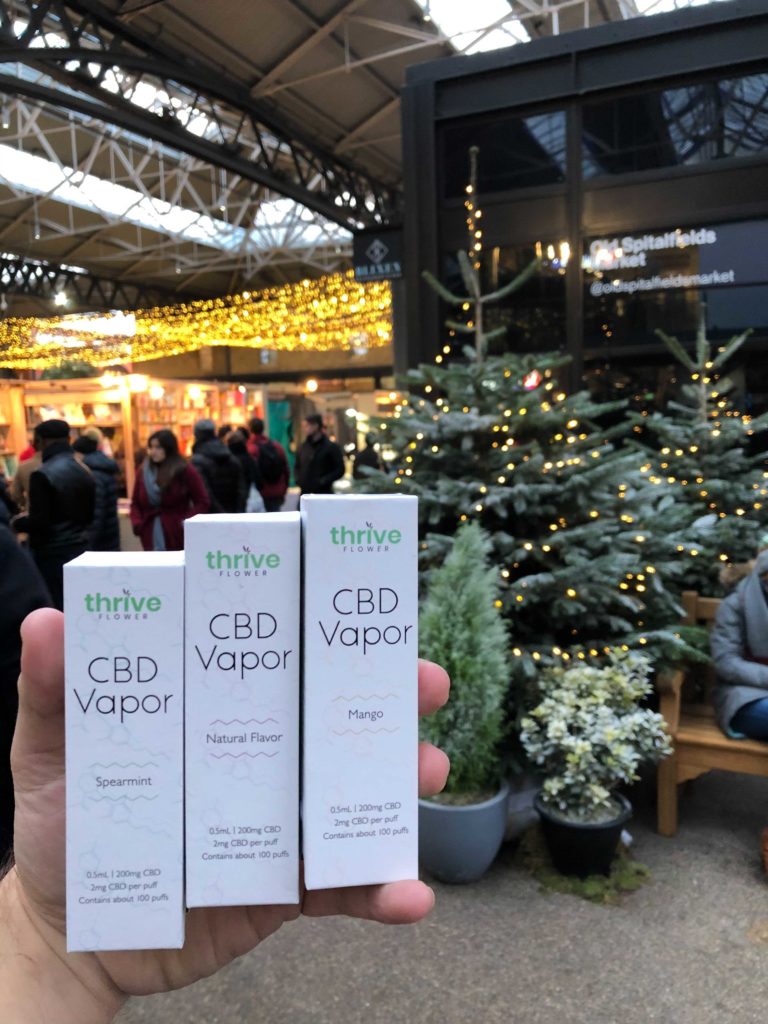 The CBD vape pen has over 200 mg of pure CBD hemp extract and comes in 4 different flavors. These include mango, spearmint lime, natural, and my personal favorite, blueberry raspberry. The flavor to CBD proportion of Thrive Flower's CBD products is an excellent example of how a CBD product should be.
The fact that this vape pen is disposable allows me to carry these around without having to worry about carrying a separate e-juice or cartridge. From just a 2-3 puffs, each separated a few seconds, this greatly helped me deal with my anxiety.
CBD Oil For Pets
Finding CBD Oil for Pets was a total surprise because I haven't come across any such product in such a long time of using CBD products from different brands. Since I already had a very good experience myself, I was quite hopeful about the CBD oil for my pet as well, and honestly, it did not disappoint me.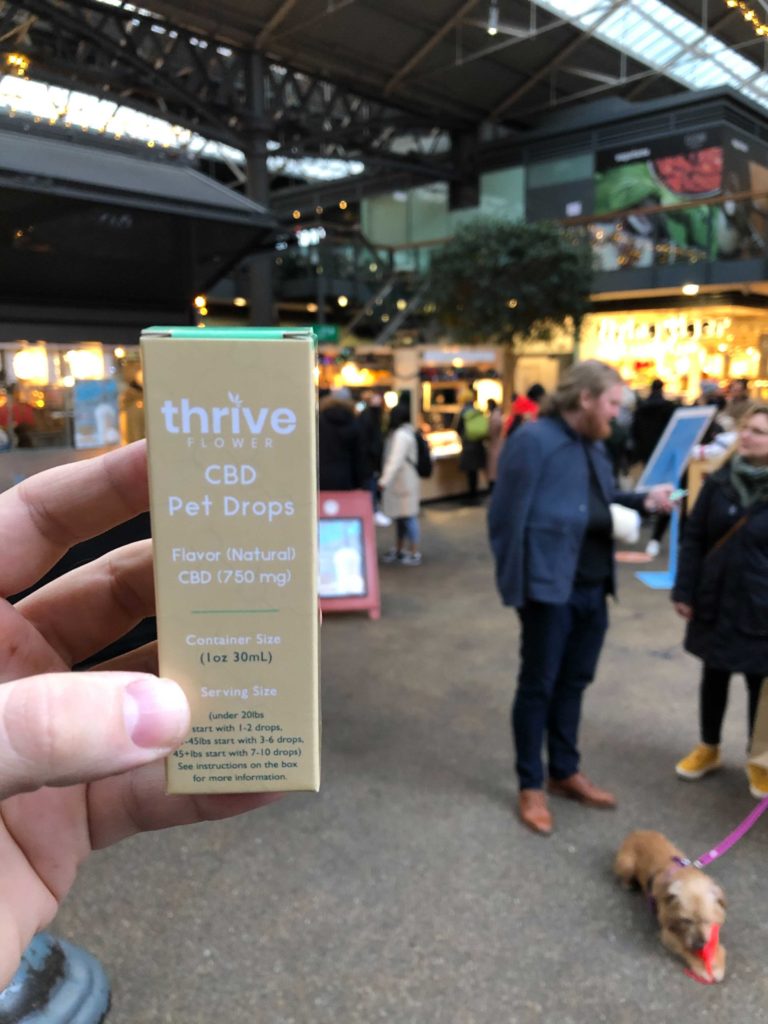 This oil is all-natural, vegan, non-GMO, and paraben-free. However, it contains less than 0.3% THC, which is only to enhance its performance on your pet without hurting them in any way. I checked the instructions and placed 2 drops in my dog's mouth as he is less than 20 lbs. The results were apparent in 40-45 minutes but it took about an hour and a half to completely calm my dog down.
CBD flower
Thrive Flower's CBD Flower is one of a kind strain. Be aware, this isn't your ordinary strain, and you will end up coming back to it after your first hit. It is sourced from the purest of CBD hemp extract and is not only long-lasting but provides instant and better results.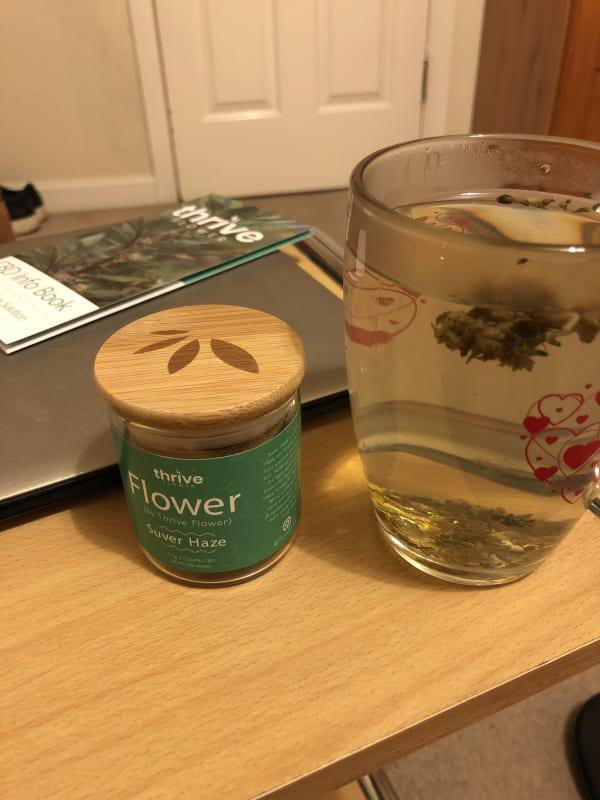 What I loved about this strain is that it burned at a significantly lower rate which made the experience even better. More importantly, I didn't have to worry about it burning up on me. The effects took only a few minutes to appear, and since I smoked this before going to bed, the CBD in it worked its wonders and allowed me to sleep with a peace of mind.
Conclusion
Thrive Flower is among some of the most prominent CBD brands in the whole US. It offers the finest quality products with the primary purpose of improving the health of its people and making the community a better place. It is due to this aim that it not only provides products for humans but also their pets. Their extensive list of CBD products with organic compositions is a highly dependable product line to turn to whenever considering buying CBD products. Thrive Flower offers reliable, high-quality, and enjoyable products that are available in different flavors, strengths, and colors.
Latest posts by Elena Ognivtseva
(see all)