Full Pure Natur Brand Review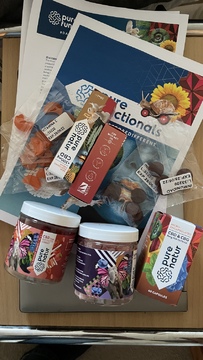 Pure Natur is a CBD brand headquartered in Amsterdam, The Netherlands. Using CBD and other high-quality active ingredients of the hemp plant, the company aims to provide next-generation wellness products.
The company sent us several products to try and test. Our team enjoyed using these products and now we are sharing our thoughts. Read on to discover our experience with Pure Natur products and learn more about the brand's mission, manufacturing process, pricing, and product line.
About Pure Natur
Pure Natur makes sure that you get the best of what nature has to offer. Powered by cutting-edge technology, Pure Natur offers 100% natural products that boast the amazing properties of CBD.
The company uses a unique and innovative cold-pressed method, ensuring a higher bioavailability and maximum effects. Solvents aren't involved in the manufacturing process — just water and pressure. Essentially, the hemp plant is squeezed, using advanced equipment without the usage of chemical solvents.
As a result, Pure Natur's products contain more CBD elements than any other CBD product you might find on the market. In addition, they are rich in natural fats, nutrients, vitamins, and phytocannabinoids; thus, ensuring the entourage effect.
On top of that, the cold-pressed method is environmentally-friendly.
Shipping & Returns
Pure Natur will deliver the package within four days. The company has a Satisfaction Guarantee policy which allows you to exchange or return the products if you're not satisfied. You need to contact customer support within 30 days of receiving the package to start the process.
Product Range
Pure Natur offers a wide range of products in a variety of flavors and potencies. You can find CBD capsules, CBD gummies, CBD oils, and CBD water. Read on to discover our experience with these products and determine whether you should give them a try.
Pure Natur Broad-Spectrum CBD Gummies With Vitamin C & Zinc
The Pure Natur CBD gummies are made using a unique formula that involves zinc and vitamin C. A daily serving (5 g or two gummies) consists of 10mg broad-spectrum CBD, 48 mg vitamin C, and 6 mg zinc.  The recommended dose is taking a gummy twice daily. 
I followed the dosage instructions and came to conclude that it's more than enough to provide a subtle mood boost and make you more productive during the day. On the other hand, these gummies really assure a sound sleep at night, which is a win-win!
Designed to support the immune system, the gummies are fantastic if you need an extra boost to get going or simply want to catch a good night's sleep. They also promote stress reduction and provide protection to cells against oxidation.
You can easily incorporate the gummies into your diet as they are delicious and straightforward to use. Boasting a full strawberry taste, the Pur Natur gummies are not only packed with nutritional benefits but are also a sweet treat.
Pure Natur Sleep Well CBD Gummies
If I had to describe the Pure Natur gummies in simple terms, I'd say that dreams have never tasted so good!
Enriched with melatonin and vitamin B6, these gummies help you get your daily dose of nutrients with a punch of CBD. Made of high-quality ingredients, the gummies feature a blueberry taste. You'll instantly feel a burst of flavor which is very pleasant. I also loved the star shape, it really gets you in a "good night" mood!
Taking one gummy before going to bed will do the charm. The effects are long-lasting, so you can expect not only to fall asleep fast but also to sleep soundly throughout the night. I usually wake up in the middle of the night at least two times which didn't happen when taking these gummies. However, even after the testing period, I kept using these whenever I felt like I needed sound sleep.
Pure Natur Full-Spectrum CBD Capsules
I must say that the full-spectrum CBD capsules are among the staple products of Pure Natur. Designed to provide the entourage effect, these capsules feature an impressive cannabinoid profile. Each capsule contains 7.50mg full-spectrum CBD, which consists of 6mg pure CBD and 1.50 combinations of other active substances like terpenes, minerals, and flavonoids.
Thanks to the micro-encapsulation formula, the CBD is protected with a layer of proteins, increasing the capsule's bioavailability. Additionally, the process makes the product tasteless and 100% water-soluble.
I started with one capsule a day, and after four days, I increased the dose to two capsules. I came to conclude that this was the perfect dose for me as it helped me feel more focused, motivated, and full of energy. Honestly, I was amazed that I felt the effects reasonably fast and were also long-lasting.
The capsules come in convenient yet straightforward jars of 30 or 60 capsules.
Pure Natur Skin Restoring Cream
The Pure Natur Skin Restoring Cream was an absolute gem! To be honest, I fell in love with the packing first! As with the other Pure Natur products, this one too comes in fun and fancy packing.
But beyond its looks, the cream is gorgeous! First of all, it's 100% natural and suitable for all skin types. I have sensitive skin, so this was important for me. Second, the cream is meant to treat different skin problems. It has soothing and restoring properties so that it can be applied to irritated, itchy, or rough skin.
Looking into the ingredients, you'll find out that the cream's base is organic shea butter, coconut oil, and candelilla wax. Beyond CBD, it's enriched with sweet almond oil, jojoba oil, chamomile tea oil, calendula oil, and vegetable glycerin.
You can start with a small layer and apply as often as you want. The texture is smooth and doesn't leave a greasy residue which is a bonus. Not only will this cream soothe your skin, but it will leave it soft and silky. On top of everything, the smell is fantastic!
Pure Natur Full-Spectrum CBG Oil
Pure Natur's CBG oil is full-spectrum and contains a range of cannabinoids, in combination with terpenes and minerals, which work together to provide the entourage effect. In addition, this oil offers fantastic therapeutic benefits. For example, you can use it to reduce inflammation or alleviate pain. It's perfect for sore muscles and back pain. Additionally, using CBG is often associated with stress relief.
The oil is made with the brand's unique cold-pressed method, which means it contains more hemp plant nutrients than traditional oil. In addition, the CBG oil is free from solvents and has higher bioavailability.
Each bottle contains 800mg pure CBG and 202mg of other cannabinoids and other active compounds. The recommended dose is one drop three times a day. That said, I must note that I started taking one drop two times a day, and it was a great start, so I'd recommend you to do the same.
The Verdict
Pure Natur is a promising brand that is very likely to become a regular addition to your CBD game. The brand uses forefront technology to offer 100% natural CBD products. I'm a big fan of the cold-pressed method, which ensures maximum effects. Additionally, the approach is environmentally friendly, which is a bonus!
As far as the effects go, everything I tried delivered on its promise. The gummies, oils, and capsules, and cream are all fast-acting and long-lasting. The gummies taste amazing too, which is great if you're after CBD supplements that will be your sweet treat.
Not only all the products I tried were terrific, but the packaging is excellent too! Of course, you'll love the fun arts and bright colors featured on each pack. But they are also very convenient to use.
All in all, Pure Natur is a brand you should definitely try! We are looking forward to trying something else from their wide product range!
Disclaimer: The post was originally published on shopgiejo.com