Unbiased Alphagreen Review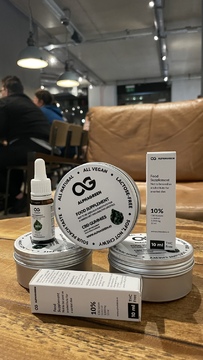 The ultimate wellness marketplace, Alphagreen was created to deliver an enhanced CBD experience to its clients.
The brand caught our eye, and we knew we must get our hands on some products. The company was very kind to send us a few of its star products to test and provide an honest review.
Below, you can find more information on Alphagreen, its shipping and return policies, discount options, and of course, details on its CBD products.
About Alphagreen
As we said, Alphagreen is a wellness marketplace that aims to simplify the CBD experience. In addition to CBD, you can also find some alternative healthcare products. Alphagreen's policy is to help its customers every step of the way — from choosing the right product to helping decide on dosage and everything in between.
Alexej Pikovsky and Viktor Khliupko founded the company. Alexej was already an avid CBD user when he realized there's a lack of reliable and effective products on the market beyond vapes and oils. So he used his background in business and came to an idea to create Alphagreen. Then, he reached out to Viktor, an e-commerce development expert, who helped turn the idea into reality.
Today, Alphagreen is the number-one destination helping millions of people who struggle with health issues. The company is part of the Alpha green Group, which is a platform focused on health and wellness. It operates in the UK and imports and distributes medical cannabis to Germany.
Thanks to innovation and market intelligence, Alphagreen is expected to grow by 300% by the end of 2022.
Alphagreen Manufacturing Process
Alphagreen is one of the most reputable brands on the market. The Alphagreen products are made in the UK from ethically-sourced, organic hemp grown in Switzerland. On top of it, they are free of parabens and sulfates, vegan, and forest-friendly.
Each product passes rigorous tests at third-party facilities to confirm the efficacy and CBD concentration. The results are transparently published on the product pages. The products are proven to be safe and effective, helping with a variety of ailments.
All products you can find on Alphagreen are certified to attest to the purity and quality standards. Additionally, each lab test is expert-approved to meet and exceed industry standards.
Alphagreen Shipping Policy
Alphagreen offers worldwide shipping with the exception of several countries. Currency, the company doesn't ship to South Africa, the Philippines, Iraq, United Arab Emirates, Singapore, Japan, Saudi Arabia, Thailand, China, Taiwan, India, Azerbaijan, Guernsey, Montenegro, and Russia.
The UK standard shipping is free and takes 2-4 working days. Express shipping is available too. Shipping for the EU and the rest of the world is available at £12 and £20, respectively, and takes 7-15 working days.
Alphagreen Refund Policy
We love a company with a good refund policy as it shows that they are legit and confident in their products' quality. So we were happy to learn that Alphagreen makes the refund as seamless as possible.
Alphagreen allows you to return a product for exchange or refund. The process is very simple and starts with contacting customer support. You should note that refunds are possible within 30 days of receiving the products. Another essential piece of information is that Alphagreen isn't responsible for the costs of returning an order except in the event of product damage in transit.
Alphagreen Reward Loyalty
Alphagreen rewards customers' loyalty with an excellent point-based program. Once you sign up, you'll be earning 5 points for every £1 you spend. What is more, you'll get an extra 1,000 points for each purchase of 20% Cibdol oil. Plus, you will get awarded 500 points when you refer a friend and make a purchase.
You can easily spend the points accumulated at checkout. You'll see how many you have on the checkout page and decide if you want to use them toward the purchase.
There are a few other options to save when shopping at Alphagreen. For example, you get a 10% discount when signing up for the newsletter.
Alphagreen Products Review
At Alphagreen, health is the most significant wealth. That's why the company's in-house brand focuses on providing CBD products that help treat pains and de-stress, aid sleep and beauty, and improve mood. Beyond the standard CBD oil, Alphagreen offers the finest CBD gummies. All products are available in multiple CBD concentrations and cannabidiol types. Read on to find out our thoughts on some of the top Alphagreen products.
Alphagreen CBD Gummies
CBD gummies are an excellent product for beginners, and that stands true for Alphagreen gummies too. Each gummy contains 25mg of CBD isolate that comes from organically-grown, Swiss-sourced hemp.
Each pack contains 10 gummies that boast a full peach flavor. You can expect the perfect balance of sour with just a hint of sweetness. Additionally, you won't feel any taste of hemp, thanks to the brand's unique formulation. Considering how good they taste, I dug deeper and learned that the gummies are naturally-flavored which is a huge plus!
The Alphagreen gummies are shaped like gems and come in bright orange color. The gummies are soft and very easy to chew. Another thing I must mention is that the gummies are fat-free and each contains only 20 calories, so I enjoyed them worry-free.
The gummies release CBD slowly into the system, offering prolonged effects. I started with one gummy, and after three days, I went on to take two gummies a day. I learned that these gummies are great for relieving anxiety symptoms, and for me, personally, they turned to be a lifesaving hack for my social anxiety.
Alphagreen CBD Oil 10%
Alphagreen 10% oil was created after the team behind the brand tested hundreds of CBD oils and decided to make products according to their preferences. Made in the UK with pure CBD isolate, the oil is vegan and THC-free. Additionally, it has a clean and straightforward formula that fits into everyone's style. The oil features a smooth golden color and has a smooth and thick texture.
The oil is designed to be used on a daily basis, and the company has put a great time and effort into its manufacturing process. The isolate is extracted from organic, Swiss-grown hemp using a short-path distillation. This method is a surefire way to avoid the thermal decomposition of cannabinoids. The result is a 97.5% pure CBD isolate free of pesticides, herbicides, and heavy metals, that delivers the best results possible.
The 10% concentration is excellent for beginners and more experienced users, as it allows you to dose it easily. For me, this is incredible strength. I love to add a drop or two in my morning coffee to kickstart the day or in my evening tea to unwind. Also, the easy-to-use pipette allows you to easily use the oil sublingually if that's your preferred method of ingestion.
Alphagreen Product Review: The Verdict
Alphagreen is a genuinely innovative CBD brand with two in-house products — CBD gummies and CBD oil. Even though the product range seems limited, these two products are the Holy Grail. They are made from the purest CBD isolate, which comes from organically-grown Swiss hemp.
The products are 100% free and contain zero THC. They are perfect for those who aren't fans of the entourage effect but want simple, pure CBD for a clear mind and healthy body.
They are also affordable, potent, and easy-to-dose. Perfect for beginners and more experienced CBD consumers alike, the Alphagreen products are ideal for a balanced lifestyle. You can also purchase these products in a bundle and save along the way.
Besides the products, I love the company's policies. They have a fair shipping and refund policy. Plus, there's the excellent loyalty program which rewards you as you buy. I'll definitely be buying again at Alphagreen!
Disclaimer: This post was originally posted on shopgiejo.com