Full Plain Jane Brand Review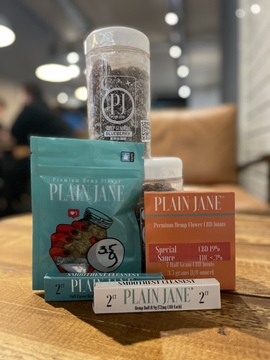 Plain Jane is one of the top CBD flower product vendors across the US. The company's goal is to provide top-quality at affordable prices. The brand sent us a few of the top products they offer. Our team tested them over the course of two weeks, and the verdict is finally here! Read on to find out why Plain Jane's products are widely praised and enjoy a fantastic reputation.
About Plain Jane
Plain Jane was founded to make premium CBD flower products more affordable and accessible to everyone.
The brand's staple products are CBD cigarettes and joints and are widely known as the best place to obtain smokable CBD products.
What really sets Plain Jane apart is that this is the first brand to introduce the low smell CBD cigarette. The company uses a water curing possess to remove the cannabis smell and the flavor that comes from the cigarette paper.
Plain Jane Manufacturing Process
Located in Southern Oregon and licensed by the Oregon Department of Agriculture, the CBD flowers are sourced from small family farms. Plain Jane manufactures its products using more than 20 hemp strains from flowers grown outdoor, indoor, and greenhouses. The filter for the pre-rolls is made of a micropore cellulose matrix wrapped in a rice paper tube.
All products offered by Plain Jane are made from industrial hemp obtained from small local farms. All products are tested at a third-party facility and contain certificates of analysis. This is a testament to the brand's responsibility, and it helps customers to feel confident when shopping.
Plain Jane Shipping & Refund Policy
Plain Jane ships across the US. The company aims to ship the orders within three business days after receiving you place the order. Free shipping is provided for orders of at least $30. In addition, you can opt for Express shipping for an extra fee.
The refund policy the company offers is somewhat strict but fair. It allows you to send back the products unopened within seven days of receiving the package. Plain Jane will issue a refund within up to 10 days. Keep in mind that the shipping costs are non-refundable.
Product Range
From hemp flowers and pre-rolls to topical and tinctures, you can find virtually any type of CBD product at Plain Jane. Of course, the company is best known for its cigarettes and pre-rolls which are available in multiple strains and concentrations. In addition, read more about the products we tried to find out whether you should give the brand a chance.
Plain Jane Full Flavor CBD Trim
The Full Flavor Plain Jane Trim is ready to use and full of flavor, guaranteeing a robust experience. The effects are mildly stimulating and gently therapeutic.
The product is reasonably priced, ranging from $5.50 to $185. The trim comes in an easy-to-use, vacuum-sealed bag with lab details on it. It's perfect for making pre-rolls, the trim contains all benefits of Plain Jane's premium buds.
We received the Tokyo strain which is a phenotype of OG Kush. This is an indoor-grown flower originally bred in North California. These buds with Indica dominant characteristics boast complex aromas of pine, lemon, and subtle diesel. The combination is powerful and delivers a unique experience.
The smoke isn't harsh at all which makes these buds a great addition to your daily smoke sessions. Additionally, expect to experience a subtle euphoria and complete relaxation. Boasting 14.68% of cannabinoids, the flowers are very powerful.
Plain Jane CBD / CBN Sleep Gummies
The Plain Jane CBD gummies for sleep come in blueberry flavor. Containing 500mg of high-quality CBD isolates, these gummies are perfect for beginners. Each cbd infused gummy bear contains 10mg of CBD and is enriched with 5mg of full-spectrum CBN and 2.5mg of melatonin. 
The formula is proven to aid a good night's sleep, and we can confirm it really works. So you can expect to fall asleep easier and have a sound sleep without waking up at night.
The recommended dosage is one gummy at night, about half an hour before going to bed. If needed, you can increase the dose but make sure not to take more than four gummies at once.
The package looks very good, and the pricing is convenient too. For example, a package of gummies will cost you $39.99, which falls within industry standards.
Plain Jane Filtered Full Flavor Hemp Pre-Rolls
The Filtered Full-Flavor Hemp Rolls by Plain Jane come in Elektra strain which is a combination of Resin Berry and ACDC hemp strains. The taste is amazing with herbal notes and a pinch of pepper and pine.
You can choose from Litter which is a combination of Early resin Bud and Suver Haze and features fragrant notes of mint, pepper, and herbs. The other option is Sour Spice Candy which is a hybrid of Early Resin Berry and South Tsunami. This strain boasts a fruity flavor.
When smoking, these pre-rolls will release an amazing aroma that lingers on your palate. The pre-rolls are free of tobacco and nicotine and contain no additives. Each pre-roll contains around 72mg of CBD. The hemp material is made of 8% CBD.
The Plain Jane Filtered Full-Flavor hemp rolls burn evenly and slow, letting you indulge at the moment. Additionally, they are considered full-spectrum, which means they will provide the entourage effect, resulting in long-lasting results.
In our experience, the effects might vary. Some reviewers reported feeling an energy surge, whereas others said the pre-roll helped them feel more relaxed and in a better mood.
Plain Jane's pre-rolls are available in packs (tube or carton) of two and 20. Prices range from $2.99 to $109.
Plain Jane CBD Prerolled Joint
The premium pre-rolled joint by Plain Jane is the best way to enjoy your CBD hassle-free. Perfect for on-the-go situations, the joint is available in a variety of hemp flavors boasting different flavors. You can choose from Elektra to Special Sauce. Beyond the variety of options, we loved the convenience and ease of use of the joints.
Each contains up to 3.5 grams of CBD hemp flowers rolled in vegan-friendly RAW paper. Additionally, the joints are abundant in rare cannabinoids like THCa and CBDa.
We were sent the Special Sauce strain. The joint delivered a smooth smoke with an amazing vanilla aroma and notes of berries, cinnamon, and rosemary. We must say — the taste is amazing!
Considering that each half-gram joint contains 19% of CBD potency, we can say this is the perfect product to help you ease yourself into the day. The joint burns slow but delivers a quick punch and has long-lasting effects. You can expect them to help you feel light and prepare you for whatever the day throws at you.
Additionally, we tried the Lifter strain. This one combines a floral and minty taste into a smooth smoke with a creamy aftertaste that lingers. You can expect a burst of relaxation, followed by a healthy energy boost. The strain contains 15% of CBD which makes it perfect for any time of the day when you need something to get you going.
The Verdict
Plain Jane is an already established CBD brand. While they offer a range of products including CBD oils and gummies, Plain Jane is best-known for its joints and cigarettes. Therefore, the brand won't be everyone's favorite but if you're an avid hemp smoker, it's likely that Plain Jane's products will quickly become a staple in your routine.
We enjoyed trying these products and can say that the company lives up to the expectations. First of all, we love the transparency level it provides — everything is third-party tested and you can easily access the lab results.
Additionally, there's an amazing variety of strains and concentrates so there's something for everyone. Thanks to the water curing process, the cannabis smell is removed and the flavor comes from the paper which is truly innovative and is rarely found elsewhere. This process delivers full flavors, loaded with terpenes but free of additives, tobacco, and nicotine.
Finally, the prices are competitive and within the industry standards, which is another great feature of the brand.
All in all, we had an amazing experience trying Plain Jane's products and can't wait to get our hands on other products from their catalog!
Disclaimer: The post was originally published on shopgiejo.com