CBDJay Review (CBD Brand from Santa Fe, New Mexico)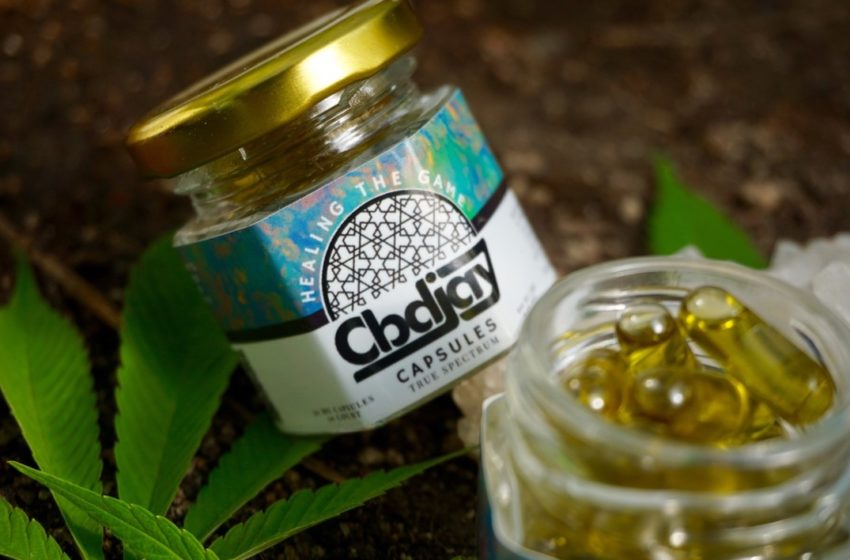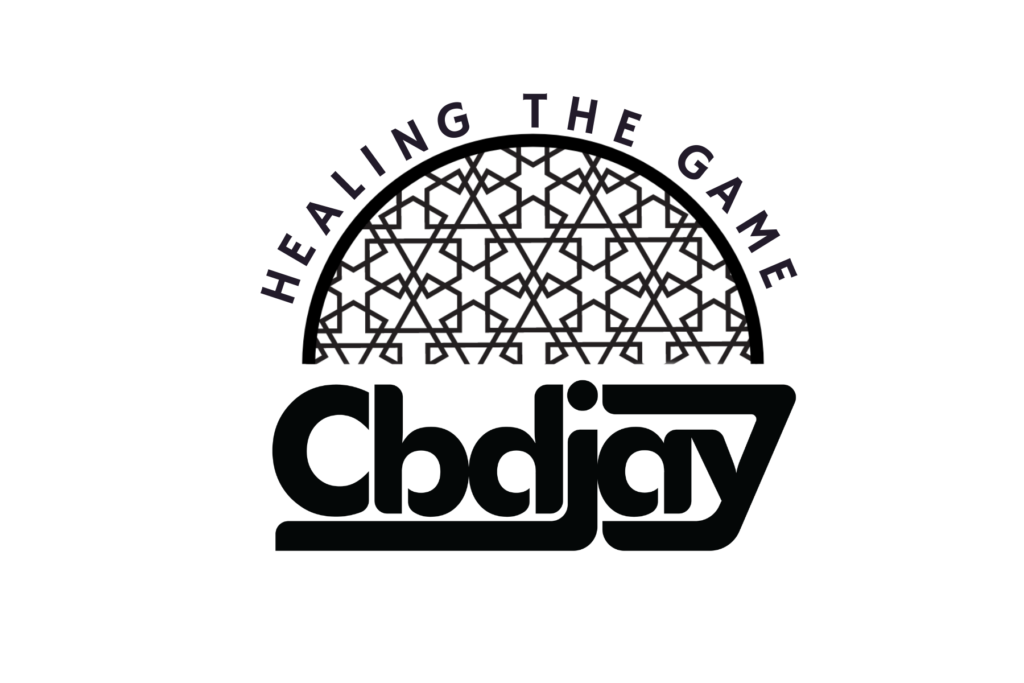 As a hemp and cannabis advocate and experimenter since 2013, I am so excited to finally discover and share with you a company that is the full-package.
I'm going to cover their current products, which were updated and refined in September 2020: non-detectable and true-spectrum capsules and tinctures, and their true spectrum arnica salve and massage oil. Each product only offers one dose as of this post date, so I will mention the dosages in each individual product review.
I am somewhat THC sensitive, so I've included reviews from friends I have recommended the products to who like the psychoactive affects offered in true/full spectrum products.
COMPANY OVERVIEW
With the rising demand for CBD, it's no surprise that the industry has become polluted with lacking integrity, dishonesty, misaligned values, and sky rocketed prices for insufficient dosages.
David Bancroft, CEO of CBDJAY, started working in the cannabis industry during a one-way trip to Amsterdam. From there, he followed his passion through working on farms in California, Colorado and dispensaries in New Mexico. In 2015, he switched to the hemp industry, understanding the plant better as a medicine, and started a hemp farm. He was one of the first certified manufacturers in New Mexico, and even helped determine some of the regulations with the New Mexico Environmental Department.
CBDJAY is more than just a CBD/ Hemp company delivered by hemp experts, it is a CBD company dedicated to transparency, equality, and a holistic approach to wellbeing. They understand the importance of creating a product and company you can trust.
The company has a promise to small-batch production, ensuring the highest-quality CBD and hemp products to its distributors and consumers. Because of this method, CBDJAY is able to use hemp seed oil, rather than MCT oil, as their carrier oil within each product.
Hemp seed oil has omega 3, 6, and 9 fatty acids–which can reverse the damage of the effects of trans fats—cannabidiol (CBD), b-sitosterol, tocopherols and terpenes. Hemp seed oil benefits include anti-inflammatory, anti-fungal, anti-pyretic, analgesic, antioxidant and more.
CBDJAY offers four CBD products, some with both full spectrum and non-detectable options, all at an effective dosage. The company owners believe that higher doses are needed for higher efficacy, and anything under 15 mg is going to have uncertain outcomes. This study reveals confirms that doses 15 mg and up showed the most efficacy for day-to-day users, and 40+ mg are effective for patients with epilepsy. The study is a compilation of studies made up of 1,223 participants.
The company is also compiling information about hemp and CBD, as well as contributing their own expertise, to their blog "Healing the Game," which can be located on their website.
This blog has been extremely helpful for me, despite being a long-term CBD user, because of the different topics it shares with the community, such as extraction processes and the 101 on various cannabinoids. They back up their information with real studies from university studies and other Google Scholar reports, which helps me to find the information I am looking for in one place.
The thing that caught my attention first with this company is their mission and values, which I felt I could align with and still do support:
"CBDJAY is a hemp product manufacturer and distributor dedicated to delivering beyond organic CBD, high-quality medicine and hemp education to people interested in elevating their vibration and creating harmony between mind, body and spirit. CBDJAY's approach is to make higher-quality genetics affordable and educate everyone in hemp in order to raise the standards of the hemp industry. CBDJAY holds the vision to offer a high-quality, yet economically accessible product to raise the industry standards. 'Long term, we envision hemp being grown wild everywhere and the price for hemp dropping so CBD can become more affordable.'"
PRODUCT REVIEWS
CBD Capsules
CBDJAY CBD capsules are made with organic CBD isolate/distillate and hemp seed oil. Each capsule contains 30 mg of CBD with 30 capsules in each bottle. This is a higher-than-average dose, and the only dose we have personally discovered to work for us.
I had mouth surgery during this pandemic and, always being anti-pharmaceuticals, was concerned about the pain relief they would prescribe to me. They recommended an anti-inflammatory, such as Ibuprofen, but confirmed I could supplement CBD when I am experiencing pain.
I immediately started popping the non-detectable capsules, one every 4 hours or when the pain began to rise. It was the easiest and least painful recovery of any surgery I've ever had thanks to CBDJAY. I also supplemented the true spectrum capsules in the evening for a good night's rest. I didn't wake up once, and I've been taking them when I have trouble sleeping in general. Their warnings about bleeding and infections was never an issue for me, and I owe it all to the effective work of these capsules.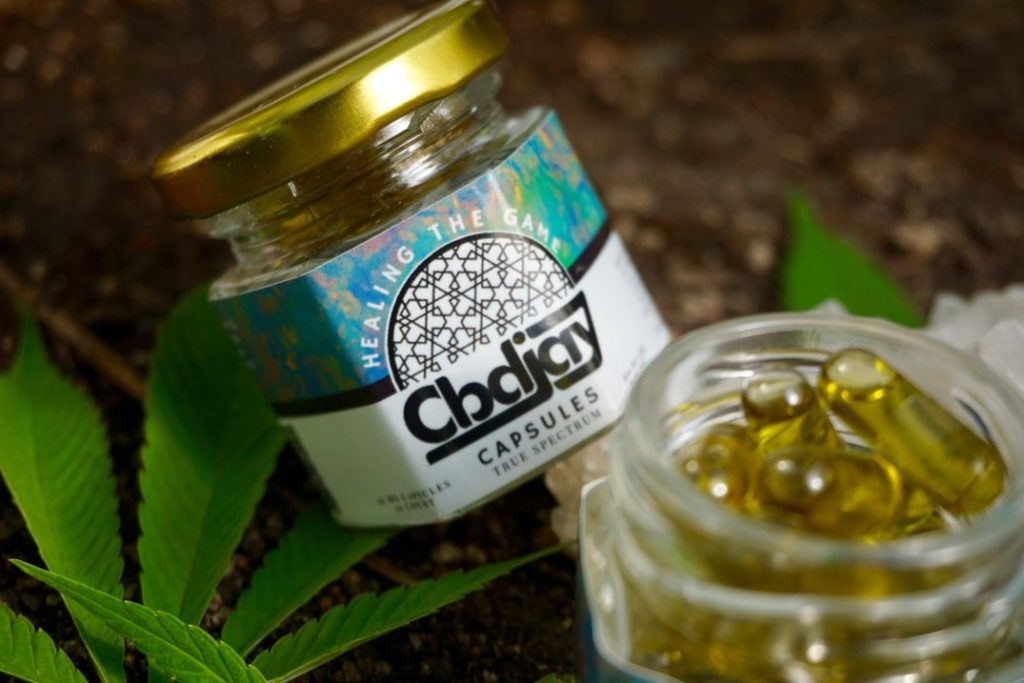 CBD Tinctures
CBDJAY hemp tinctures are also made with either organic CBD isolate (non-detectable) or CBD distillate (full-spectrum) blended with organic hemp seed oil. Each tincture contains 1000 mg of CBD.
I recommended the true spectrum tincture to one friend dealing with anxiety and paranoia, and a non-detectable tincture to another friend who is THC sensitive. The results for both of them were immediate. One friend reported taking it with her coffee in the morning before tending to her stress-ridden job, and was able to listen clearer, without the thoughts running in the background.
The other friend who supplemented non-detectable takes it when her anxiety is at its peak and the headache starts to form. She said it takes nearly the same time as ibuprofen to kick in, but the effects are more calming in addition to the pain relief.
One of their ambassadors reported giving one drop of the tincture to their 5-year-old son, who suffers from an anger disorder. He was able to relax in playtime and not hurt all the kids around him.
All three of these users appreciated the taste of the tincture, thankful for its lack of alcohol. It tastes exactly like hemp seed oil: very neutral.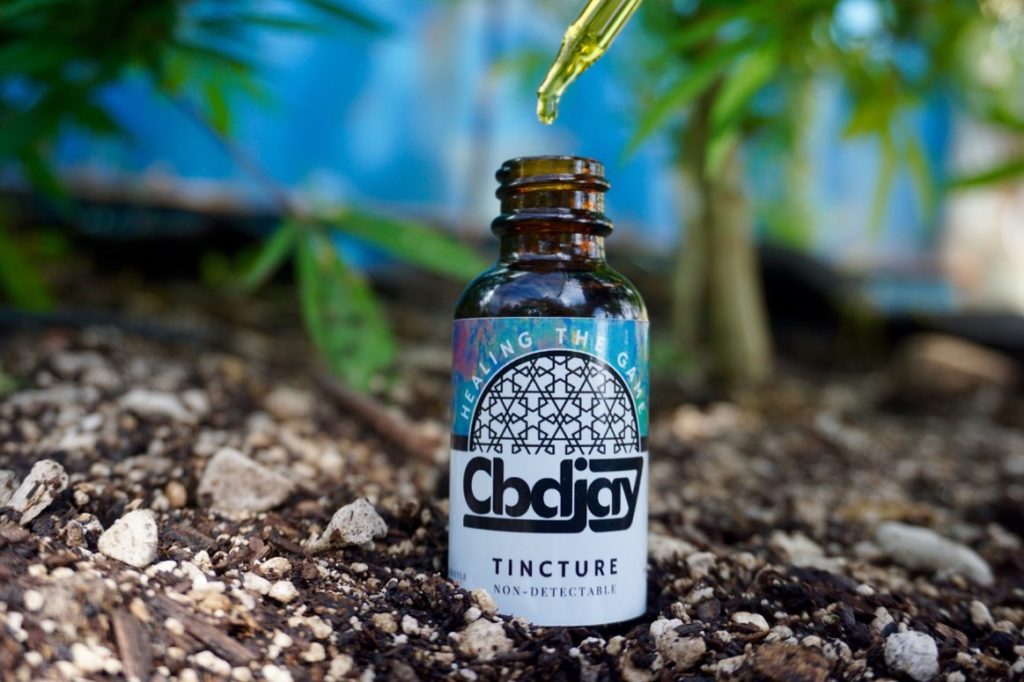 CBD Massage Oil
CBJDAY Mystic Massage Oil is a therapeutic blend of hemp seed oil, jojoba oil, vitamin E, and CBD distillate for the true spectrum experience. As a topical, the THC does not act as a psychoactive as it does not enter the bloodstream.
Each 3.3 oz bottle contains 1000 mg of CBD.
My partner and I give one another generous massages when the stress of the world fills our shoulders and backs. We noticed a longer-lasting relief than a normal massage with non-CBD oil. It helps us feel relaxed longer, as we are free of pain.
If we are ever short of salve, we use the massage oil for dry skin and itch relief. A little goes a long way!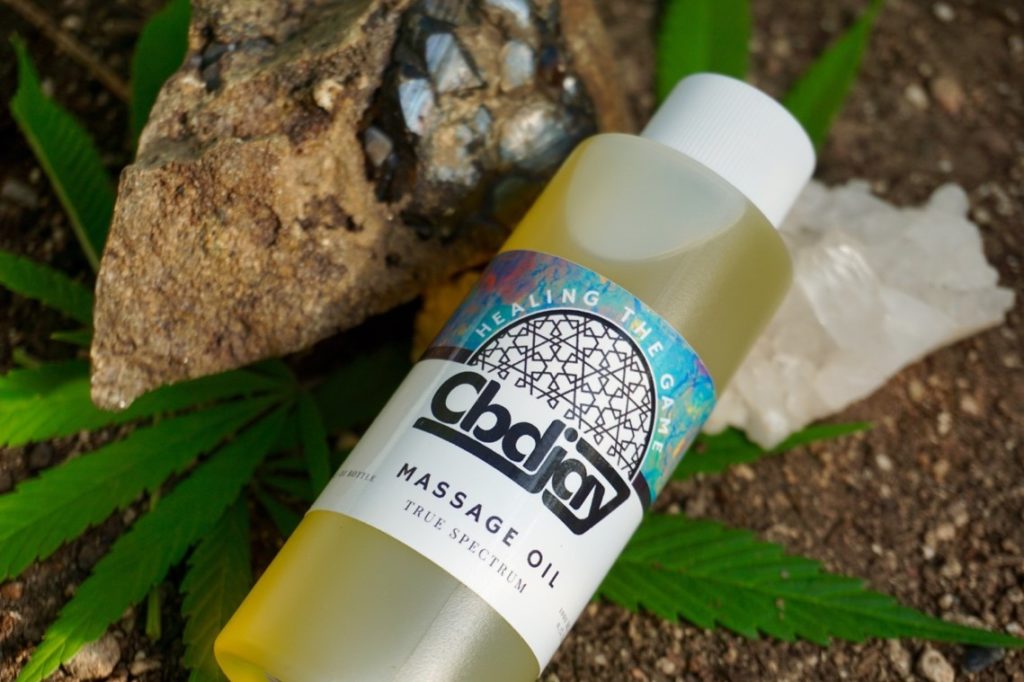 CBD Salve
CBDJAY CBD Arnica Salve is an overnight cure for dry skin, and acts immediately to relieve itchiness and muscle soreness. The salve comes in a form similar to a deodorant applier for easier and cleaner application to skin, and it is a combination of full-spectrum CBD, arnica, bees wax, and shea butter.
Each 2 oz salve stick has 1000 mg of CBD and is made with CBD distillate for a true spectrum experience.
It's pretty commonly understood that salve is used for pain-relief. CBDJAY Arnica Salve, however, is a cure-all. I use it for anything from dry skin on my feet, to rash relief, cuts, and muscle soreness. It amazed me the first time I used it on my feet, which are cracked and cut they are so dry, right before bed. The next morning my cracks were not only sealed up, the dry skin around them was moist and remained that way all day until another evening application.
I also developed a celiac-rash on my inner elbows that I would itch like a maniac in my sleep, enabling it to spread more and blister up. My partner suggested I apply the salve each morning and evening. The itching subsided immediately, and the rash went away after a couple days.
If my partner and I are too busy for massages, we will rub the salve stick on our shoulders, neck and lower back for immediate pain relief. In addition to the CBD, Arnica, which comes from a flower within the sunflower family, is one of the number one affective pain relievers in homeopathic and herbal medicine practices. Arnica has derivatives of thymol, which is anti-inflammatory. It's often used post-surgery and for people with osteoarthritis. The combination ensures positive results.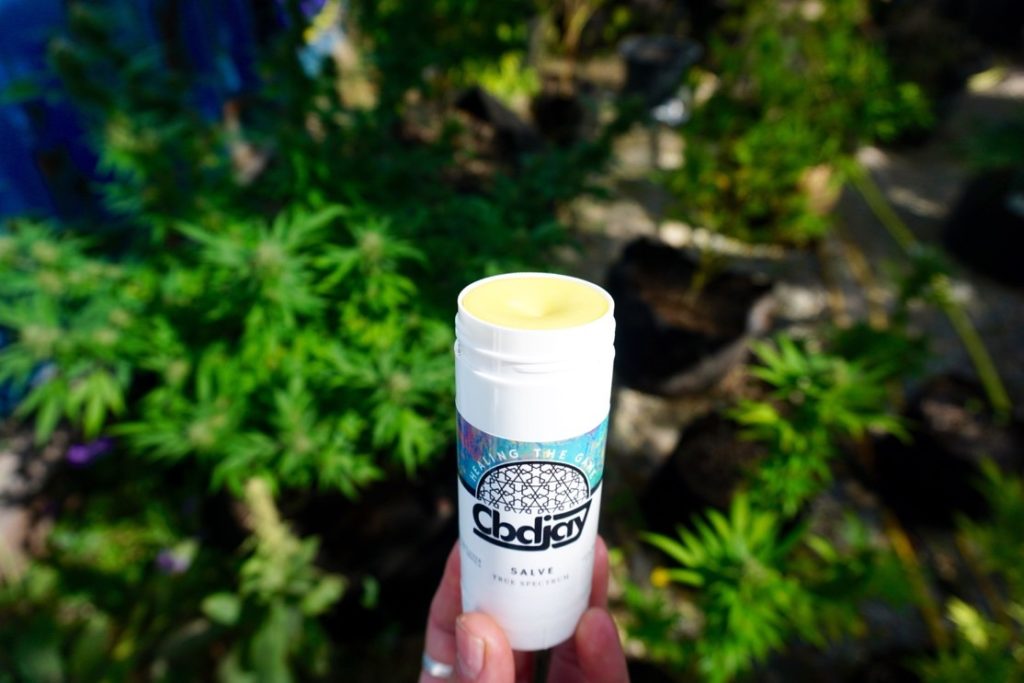 COMPANY CONCLUSION
Pros:
Affordable
High-quality
Beyond organic
Company values
Family-owned
Small-batch freshness
Customers continue to win with discounts
Cons:
Fewer product options
Fewer dosage options
I've yet to discover a CBD company that is as well-rounded from organic farming, to certified manufacturing, with high-mg products at an affordable cost, and a mission to raise the industry standards, support equality, and create a family with their customers.
I reached out to the company with questions regarding dosages, applications, and my personal needs for CBD, and the owner himself contacted me. He's been in the cannabis industry for nearly two decades and was able to provide me with abundant information on each subject.
CBDJAY has it all. Check out their Instagram for updates on the company's products, partnerships, charities, and more. 
Latest posts by Ksenia Sobchak
(see all)