The Best CBD Gummies for 2021
January 14, 2022
2869

43 minutes read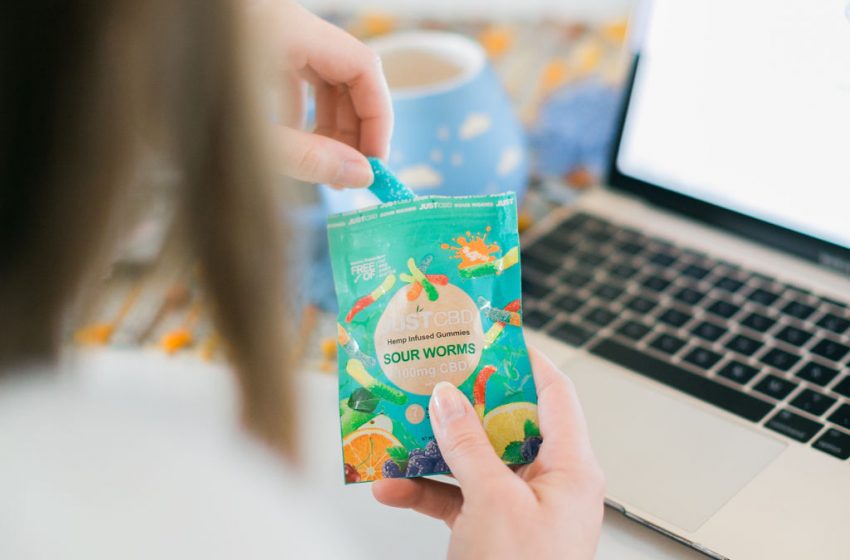 You can find CBD gummies in different forms including worms, rings, and bears. They are a cute and fun way to consuming CBD. Besides the variety of forms, gummies come in multiple flavors like strawberry, melon, and pineapple. Designed to suit the needs of those who aren't fans of CBD capsules and oils, gummies are versatile and convenient to use. Below, we're revealing the top benefits of CBD gummies and the top products to try now. 
Top Benefits of CBD Gummies 
Infused with delicious flavors, CBD gummies will quickly become your favorite treat. In addition to their fantastic taste, they deliver a wide range of benefits. Here are a few reasons why you should start consuming CBD gummies now. 
Easy to Consume
CBD gummies are arguably the easiest form to intake CBD. They come pre-dosed, so you'll be able to keep your CBD dosage consistent and accurate. Plus, they look like regular gummies, so consuming them is very discrete — no one would notice you're taking CBD (unless you want to, of course). 
Potent and Long-Lasting Effects
Considering that the digestive system releases nutrients slowly to provide fuel to the body when it's needed, CBD is also released sporadically. This ensures that the CBD effects are not only potent but also long-lasting. 
Delicious Flavors
From apple and orange to strawberry and chocolate, the CBD gummies come in a variety of flavors. They combine the best of both worlds — they are a sweet treat and potent CBD products. So, you'll be relaxing while enjoying your sweet moment. 
How Long Does It Take For CBD Gummies to Hit You?
With CBD gummies, you shouldn't expect immediate effects. They need to be fully broken down to deliver results. Generally, it would take between 30 minutes and two hours for the gummies to start working. 
That said, several factors influence the process. For example, if taken on an empty stomach, the results will be faster as your digestive system will have only the gummy to dissolve. 
Also, it depends on your metabolism and how fast it works. Furthermore, your body mass and weight, digestive enzymes, and any medications you're taking in a given period will also influence the time CBD gummies will take to produce effects.
 The Best CBD Gummies
We enjoyed trying and testing dozens of CBD gummies. We carefully examined each for potency, results, taste, and ingredients. Additionally, we should note that we only considered companies that engage in good business practices and are transparent about their processes. 
JustCBD
JustCBD was founded in 2017 to change the misconception regarding CBD products. Promising never to misinterpret the ingredients they include and help consumers realize the real potential of CBD, JustCBD is transparent about its processes adn offers COAs on its website. The brand offers a fantastic product range that adheres to the highest safety standards. 
CBD Gummies 3000mg Jar – Party Pack
Multiple flavors
Fun pack
3,000mg of CBD per package
If you can't decide on your favorite flavor, JustCBD's Party Pack offers you all. The assorted jar includes multiple flavors like watermelon, green apple, blue raspberry, and more. Made with CBD isolate, the jar contains a total of 3,000mg CBD. Inside, you'll discover a real party — bears, worms, and rings. The Party Pack is fun, tasty, and, most importantly, effective.
Sour Worms
99.99% CBD isolate
Five sizes available
A sweet and sour flavor
Packed with 99.99% CBD hemp isolate, the Sour Worms from JustCBD are perfect for relaxing after a stressful day or taking a little break in between your busy schedule. These two-toned CBD gummies taste sweet with a tangy sour taste. The flavor is amazing and will leave you wanting more. These CBD gummies are available in five sizes — 100mg (7 pieces per pack), 250mg (15 pieces), 500mg (30 pieces), 750mg (60 pieces), and 1,000mg (80 pieces). 
PureKana
"PureKana's hemp is grown and harvested organically in Kentucky. The company uses solvent-free CO2 extraction; in other words, using the CO2 from the air we breathe to extract the beneficial molecules," shared the company's representative. They further explained what sets the brand's products apart. "What distinguishes PureKana's lineup is how the company infuses CBD with both all-natural and delicious ingredients, whether it's berry flavors or a sleep aid like Melatonin. The final result is a product combining the best of multiple worlds, such as gummies, tinctures, and sleep-aids." In addition, all products are vegan and tested in third-party labs to ensure the highest quality.
Apple Cider Vinegar Gummies
Apple cider taste
25 mg of CBD per gummy
Vegan 
Each Apple Cider Vinegar gummy by PureKana contains 25mg of broad-spectrum CBD, which amounts to 1,500mg total CBD per bottle of 60 gummies. Each bottle also features 600mg of alkalized apple cider vinegar. One gummy a day was enough for relieving mild pain, but I consumed two gummies a day for more severe aches. The apple vinegar cider taste is pretty pronounced, so if you're not a fan, you should consider an alternative. I am, so I enjoyed these gummies very much. 
Alphagreen CBD
Alphagreen is a wellness marketplace that aims to simplify the CBD experience. In addition to CBD, you can also find some alternative healthcare products. Alphagreen's policy is to help its customers every step of the way — from choosing the right product to helping decide on dosage and everything in between. 
Alphagreen CBD Gummies
Peachy flavor 
25mg of CBD per gummy
Vegan
Alphagreen CBD
Alphagreen is a wellness marketplace that aims to simplify the CBD experience. In addition to CBD, you can also find some alternative healthcare products. Alphagreen's policy is to help its customers every step of the way — from choosing the right product to helping decide on dosage and everything in between. 
Alphagreen CBD Gummies
Peachy flavor 
25mg of CBD per gummy
Vegan
Flavor —  Peach
Price — £20.00
Strength — 25mg per gummy
Lab test — Available on site
Vegan — Yes
CBD gummies are an excellent product for beginners, and that stands true for Alphagreen gummies too. The Alphagreen gummies are shaped like gems and come in bright orange color. The gummies are soft and very easy to chew. Another thing we highlighted in our Alphagreen brand review is that the gummies are fat-free and each contains only 20 calories, so I enjoyed them worry-free. 
Half Day CBD
Half Day is a Black-owned CBD business that quickly established itself among the industry best. Everything is done in-house, so the team oversees the process from seed to shelf, ensuring each product is top-quality. They use organically-grown hemp that comes from Kentucky. Additionally, there's a food safety manager on board who ensures the strict standards are met. Finally, the products are made in small batches to ensure freshness. 
Half Day Gummies
Multiple flavors available
25mg CBD per gummy
Packages of 15 and 30 gummies
Each Half Day gummy is infused with 25mg lab-tested CBD isolate and is available in multiple flavors —  strawberry, watermelon, cherry, peach, berry, coffee, and combo. Each has a rich and full taste resembling a regular gummy. The combo package is the best option if you want to try all flavors at once. I felt the effects in less than 30 minutes. My sleep improved, and I was more alert and focused throughout the day. 
Altwell
Altwell was founded to provide premium CBD products that aid consumers' wellness. The company thrives on complete transparency, providing certificates of analysis for each product. The hemp they use is organically harvested in Colorado and tested for providing consistent results. The brand has quickly risen through the ranks. It has been featured in Authority's Magazine, Pop Sugar, Men's Health, and other prominent outlets. 
Altwell Gummies for Restful Sleep
Yuzu citrus, tropical, and mixed flavors
250mg of CBD
Vegan 
The Altwell gummies contain 250mg broad-spectrum hemp extract. Additionally, they are enriched with L-Theanine and melatonin, forming a powerful combination for restful Before bedtime, taking a gummy before bedtime will help you fall asleep easier, sleep longer hours, and wake up rested and energized. Plus, the gummies are available in three unique flavors — Youzu citrus, tropical, and combo.
Full Circle Hemp 
"Designed by nature, infused with love," Full Circle Hemp is a family-run company established in 2016. The company sources hemp from Europe and America to create an extensive range of GMP-certified, non-GMO, and IOS9001-certified. Full Circle Hemp is of the Hemp Federation Ireland (HFI) and CTA Cannabis Trade Association. All products are tested in third-party labs, and the reports can be easily found on their website for maximum transparency.  
CBD Gummies
Raspberry, strawberry, mango, and lemon flavors
Vegan
Available in 300mg and 750mg strengths
In Full Circle Hemp's representative's own words, the CBD gummies are "developed by proprietary, customized equipment which is optimized for the specific task of extracting CBD from hemp. Using IPA because it works with our unique methods in giving us the most consistent results." They contain 300mg, or 750mg of CBD isolate per container. Each package includes 30 gummies which deliver amazing and rich flavors of strawberry, lemon, mango, and raspberry. You'll enjoy the combination of flavors while relaxing after a stressful day. 
FOCL
FOCL is a premium CBD brand aiming to offer effective wellness products that support consumers' healthy living. FOCL offers a range of CBD gummies, drops, capsules, and topicals designed to help people perform better and feel better. FOCL says its products help consumers relieve stress, sleep better, recover faster, and concentrate longer by using "plant-powered wellness" and "modern mother nature." The CBD drops and gummies are vegan, cruelty-free, and non-GMO. 
FOCL Fruit Chews
Available in three flavors
10mg of CBD per gummy
Vegan
The FOCL Fruit Chews are made with organic ingredients and aim to help you relax in a more convenient way. They are colorful and very soft and feature three flavors — strawberry, orange cream, and wild berry. They are delicious, providing the right balance of sweetness and zest. The gummies will fuel you with energy and make you more focused. That said, our FOCL review revealed that these gummies shouldn't be your first choice if you're looking to aid your sleep. 
House of Wise
Amanda founded House of Wise after experiencing the health benefits of CBD during the pandemic. After realizing the full potential of this miracle plant, Amand set on a journey to change the misconception about CBD and empower other women worldwide to take control over their sex, sleep, and stress. House of Wise is a brand founded by a woman for women. 
Sex Gummies
Wildberry taste
150mg of CBD
Vegan
The Sex gummies are manufactured using 100mg Maca root extract, 200mg Horny Goat Weed extract, 15mg of full-spectrum CBD, and 10mg Ashwagandha extract. This complex combination promotes sexual desire, increased energy, and stamina.
Pure Natur
Pure Natur is a CBD brand headquartered in Amsterdam, The Netherlands. Using CBD and other high-quality active ingredients of the hemp plant, the company aims to provide next-generation wellness products. The company uses a unique and innovative cold-pressed method, ensuring a higher bioavailability and maximum effects. Solvents aren't involved in the manufacturing process — just water and pressure. Essentially, the hemp plant is squeezed, using advanced equipment without the usage of chemical solvents. 
Pure Natur Sleep Well CBD Gummies
Blueberry taste
Vegan
10mg of CBD per gummy
Enriched with melatonin and vitamin B6, these gummies help you get your daily dose of nutrients with a punch of CBD. Made of high-quality ingredients, the gummies feature a blueberry taste. You'll instantly feel a burst of flavor which is very pleasant. I also loved the star shape, it really gets you in a "good night" mood! As confirmed through a two-week testing period, one gummy before going to bed will do the charm. The effects are long-lasting, so you can expect not only to fall asleep fast but also to sleep soundly throughout the night. I 
Farmer & Chemist
Create by pharmacists, Farmer & Chemist is a top-rated CBD brand dedicated to elevating consumers' health and wellness. The company uses broad-spectrum CBD which means 0% THC. Also, the products are gluten-free and don't contain any harsh chemicals. Additionally, consumers have access to expert pharmacists and can seek help and guidance at any time. Farmer & Chemist has been featured in top outlets like Grazia, US Weekly, and Emerald. 
Gem Gems
10mg of CBD per gummy
Fruity mix
Gread for treating mild pain
The perfectly shaped gem gems in bright colors pack 10mg of broad-spectrum CBD. They are the perfect snack when you want to calm yourself and give an extra push to go through the day. After two-week testing, I also noticed the gummies are good for mild pains, specifically back and shoulder aches. The mixed fruit taste is sweet yet refreshing. These CBD gummies are undoubtedly a great snack at any time of the year. 
Love Hemp
Love Hemp was founded in 2015 by Tony Calamita and Tom Rowland, two old school friends who have turned to natural supplements. The duo quickly came to know there's a lack of standard in the CBD industry which prompted them to establish Love Hemp and offer pure, high-quality, and diverse CBD products. 
Love Hemp CBD Jelly Domes 
Mixed fruit flavor
10mg of CBD per gummy
Vegan
Love Hemp's Jelly Domes are infused with 5mg of CBD each. One pack combines three flavors — blackcurrant, strawberry, and orange. They deliver delicious taste and a full fruity outburst. There's a subtle hemp aftertaste which isn't unpleasant at all. They are THC-fee, sugar-free and vegan. The texture was very interesting to me as they are "spongy." We really enjoyed these gummies. Plus, the pocket size makes it very easy to carry them with you can consume the domes discreetly. 
Tribe 
TribeTokes is a women-founded CBD company founded in 2017. Today, the brand is considered a pioneer in clean vaping. Over the past few years, TribeTokes has expanded its portfolio with clean, safe, and pure CBD skincare products and CBD gummies. With their guiding principle being "Never sell a product you wouldn't give your own mother or sister," TribeTokes is now a reputable brand and one of the few on the market that offer high-quality CBD products. 
TribeRevive CBD Gummy Bears
Mixed fruit flavor
Vegan
25mg of CBD per gummy
TribeRevive is formulated to offer the perfect balance between tasty and healthy. Unlike other CBD gummies on the market which contain artificial food colorings and high fructose corn syrup, the TribeRevive gummies are colored and flavored with organic ingredients. The proprietary formulation includes organic sugar cane and natural juice extracts, giving them an amazing taste we thoroughly enjoyed!
Plain Jane 
Plain Jane is one of the top CBD flower product vendors across the US. The company's goal is to provide top-quality at affordable prices. The brand sent us a few of the top products they offer. Our team tested them over the course of two weeks, and the verdict is finally here! Read on to find out why Plain Jane's products are widely praised and enjoy a fantastic reputation. 
Plain Jane CBD / CBN Sleep Gummies
Blueberry taste
Unique night formula
10mg of CBD per gummy
The Plain Jane CBD gummies for sleep come in blueberry flavor. Containing 500mg of high-quality CBD isolates, these gummies are perfect for beginners. Each gummy contains 10mg of CBD and is enriched with 5mg of full-spectrum CBN and 2.5mg of melatonin. The formula is proven to aid a good night's sleep, and we can confirm it really works. As we learned, you can expect to fall asleep easier and have a sound sleep without waking up at night.
SunMed
SunMed is a popular CBD brand based in St. Petersburg, Florida. Founded by Rachel and Marcus Quinn, who started leveraging the wonders of CBD oil as an aid for Rachel's Chron's disease. The first "You CBD Store" was opened in 2018 and since it has hundreds of franchise locations across the US have emerged. Additionally, SunMed products can be purchased online. The company has won multiple awards most notable of which is the 2019 USA CBD Expo excellence awards for the CBD tincture and CBD topical. 
SunMed CBD Broad Spectrum Gummy Bears  
Mixed fruit flavor
25mg of CBD per gummy
Vegan
The broad-spectrum gummy bears by SunMed are all-natural and free of THC and any unhealthy additions, these gummies are designed to be taken on a daily basis. Each gummy contains 10mg of CBD and other cannabinoids, including CBN and CBG, as well as terpenes. Coming in assorted fruit flavors, the bears are delicious.  
Best CBD Edibles
If you're not into CBD gummies, edibles are a great choice. You can find a variety of forms and flavors that will for sure satisfy your daily CBD dose. Below, we're listing the top CBD edibles. We tried and tested all of them for potency, ingredients, flavor, and effects. 
Altwell Protein Powder
Chocolate and vanilla flavors
20mg plant based protein
Great for post work out use 
Atwell's delicious, CBD-infused protein powder boasts 20mg of broad-spectrum CBD. Intended to deliver balance and calmness, this powder is the best product for muscle repair and boosting energy levels. In addition, the powder contains 20mg of plant-based protein, making it a real powerhouse nutrient. Available in two flavors — chocolate and vanilla — the powder tastes delicious. This product has become a staple in my workout routine. It's very easy to prepare it. You need to mix two scoops with about 10fl oz. of water or almond milk. I also love it as an addition to my morning smoothie. 
JustCBD Cocoa Quinoa Bites 
Vegan
Chocolaty taste
Only 310 calories
The crunchy quinoa snacks are infused with 250mg CBD and promote general wellness. These chocolate-flavored snacks feature a vegan, organic formula. It's a delicious alternative for all those who aren't fans of CBD oil or gummies. The bites are chocolaty and will also satisfy your sweet cravings. Each piece contains only 310 calories, which means you can enjoy them without guilt. The JustCBD cocoa quinoa bites effectively relieve anxiety and stress.  
BlackSheep Meringues — Mint Chocolate
100% natural-derived CBD
Amazing taste
All-natural ingredients
Made of all-natural ingredients the BlackSheep CBD meringues are taking the cookie's taste to the next level. Nutritious and delicious, the meringues are a healthy snack alternative. They are fun to eat and pack 50mg of 100% natural CBD which is extracted from citrus fruits. They are free from fats, lactose, cholesterol, and gluten. In addition, they taste amazing. I loved the combination of mint and chocolate as I found it perfectly balanced. Plus, there isn't any aftertaste. 
Tillmans Tranquils CBD Mints
Cinnamon or peppermint flavors
10mg of CBD per mint
Vegan
Convenient and discrete, Tillmans Tranquils are the best choice if you want to consume CBD on the go. Each mint contains 10mg of 100% full-spectrum CBD. One or two mints create the perfect daily amount. The mints are available in peppermint and cinnamon flavors. I found peppermint to be really refreshing, but I also loved the spicy flavor of the cinnamon ones. What makes the mints special is the pan coating that protects the hemp extract from outdoor influences, ensuring great effectiveness. 

Latest posts by Nataly Komova
(see all)