Ageless Labs' CBD Products Full Review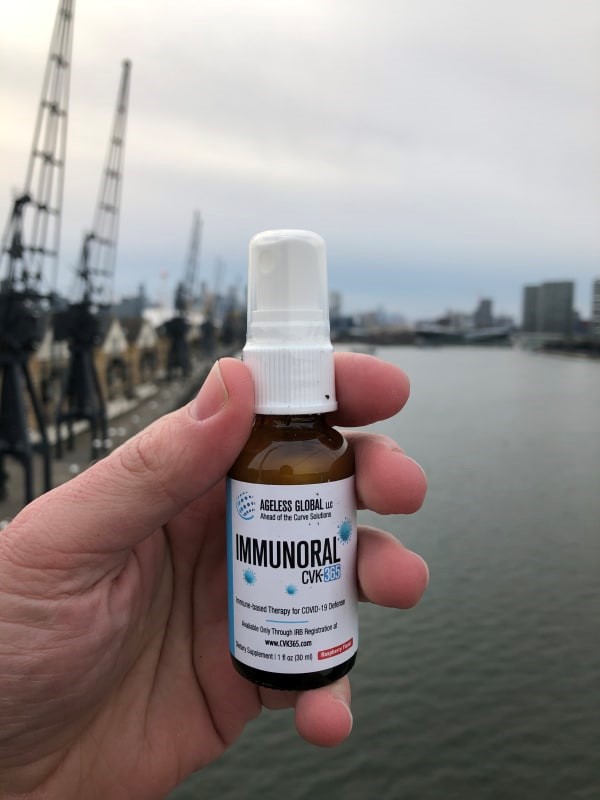 In this CBD review,I'll be reviewing Ageless Labs'most in-trend CBD products. These includeWater-Soluble Hemp Tincture, Rapid Relief Cream, Bath Bombs, Diet Hack Fasting Support 356, Cannabinoid Rich Gummies, Hemp Pet Drops, and Focus EZ Brain Support.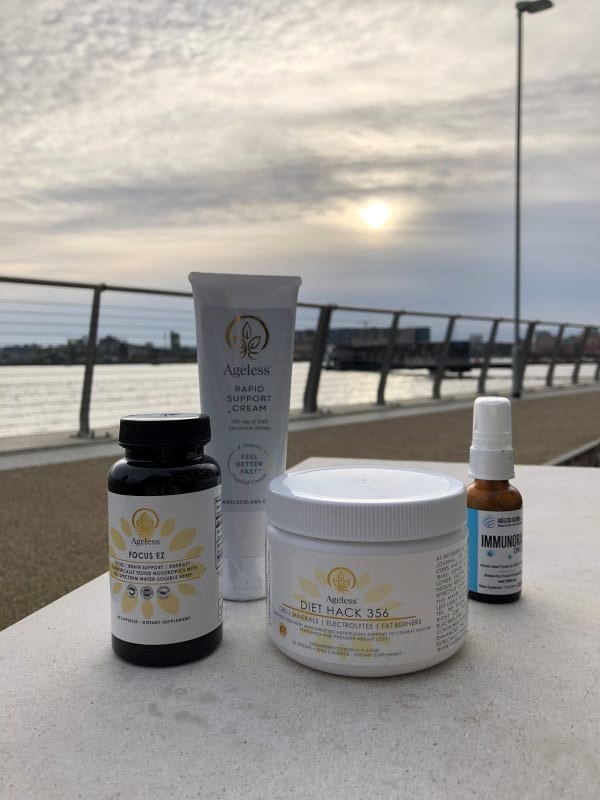 About The Brand
When it comes to CBD products, Ageless Labs left me stunned. There is a saying that goes around in Ageless Labs "we are not what we eat, we are what we absorb." Based on this, all CBD products by Ageless Labs go through a rigorous testing product before sending them out to potential customers. Honestly speaking, this put the brand ahead of others due to its dedication to providing quality products.
The brand Ageless labs have one primary goal, and that is to ensure the hemp-based CBD products you receive are of the best quality. Going through the brand's history, I found them to be one of the most reliable and trustable brands that I have ever come across. The same goes for all of their products, including bath bombs, edibles, tinctures, cannabinoid-rich gummies, and so many more.
Detailed Review Of Ageless Labs CBD Products
Water Soluble CBD Tincture
Ageless Labs' water-soluble CBD tincture is one of the most efficient ways to get your daily dose of CBD. This is specifically true if you want to start your day with a peaceful mind. With this water-soluble CBD tincture, you get over a whopping 1000 mg and 1500 mg strength of CBD.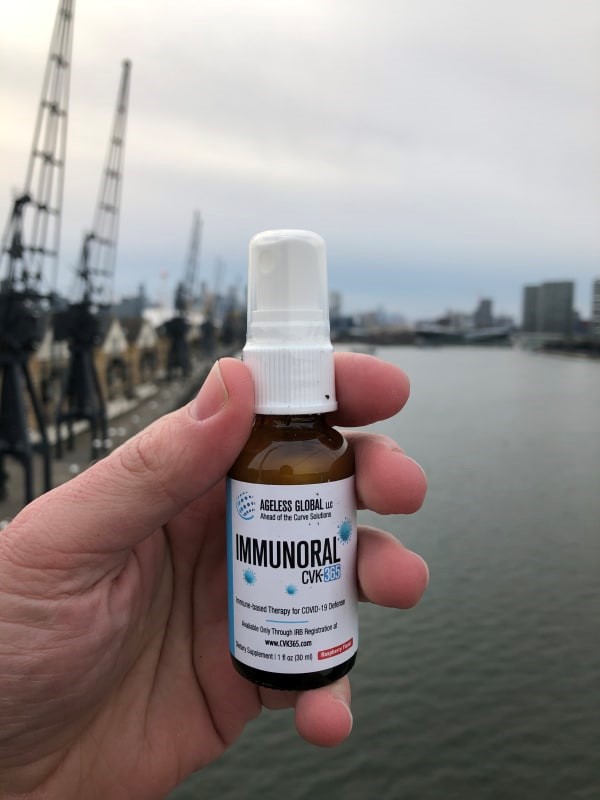 To top it off, there are over four different flavors that you can choose from. These include my favorite raspberry lemonade, peppermint, chocolate mint, and pina colada. Moving forward to the testing and review, all it took was a little over 20 minutes, and that was it. Within 20 or 25 minutes, I got an immediate hit of the CBD's relaxing effects. I've always been a fan of CBD oil tinctures, and this did not disappoint me whatsoever.
Not only did it put my mind to ease, but it also significantly improved my moods. When you consume this CBD oil tincture in the morning, it targets the endocannabinoid system in your body and aids in relieving stress and promoting emotional behavior. It helped me stay focused on my goals for the day, and not once did I feel stressed or lost focus.
Rapid Relief Cream
Have you got pains or minor aches in your body? If yes, this bag-friendly and CBD-infused Rapid Relief Cream can come in handy in such situations. Formulated with the purest of ingredients, including camphor oil, arnica oil, peppermint oil, ginger oil, wintergreen oil, eucalyptus oil, and cinnamon oil, this relief cream will take your pains and aches away within minutes.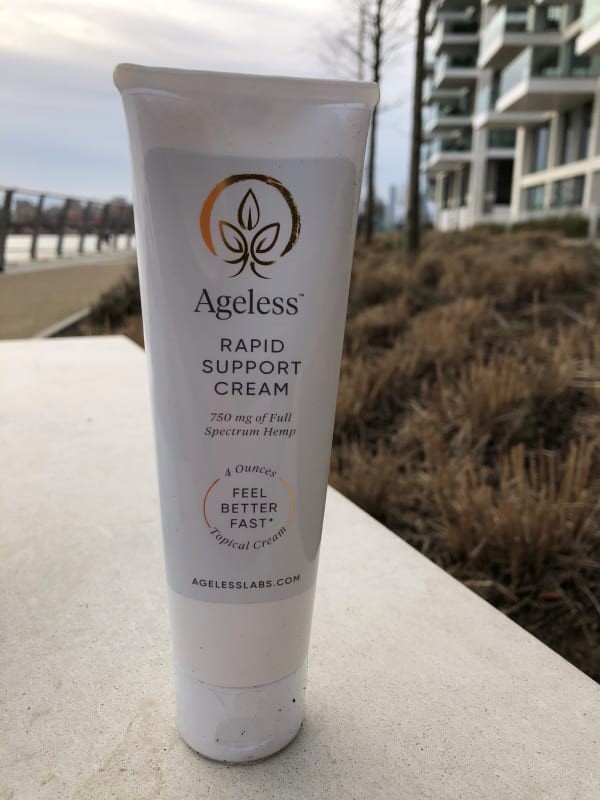 Apart from the essential oils, it also contains numerous helpful ingredients to boost the pain relief process further. These include contains chamomile, aloe gel, and the most important, water-soluble hemp cannabinoids. Even though Ageless Labs use the purest of hemp extract, they have managed to keep the THC lower than 0.3%.
For this review, I wanted to keep it as accurate as possible, so I waited till I felt any pain in my body. On the day of the review, I had two back-to-back meetings and presentations, leading to severe lower back pain. Much to my surprise, it only took two applications. Yes, you heard it. Two applications were all I needed to get the job done.
Focus Ez Brain Support
Losing focus after a busy day at work is something that most of us feel, if not everyone. It can be quite offputting, specifically if you have a family function or gathering planned for the night. I'll be honest; this was my first time trying out anything like the Focus Ez Brain Support capsules.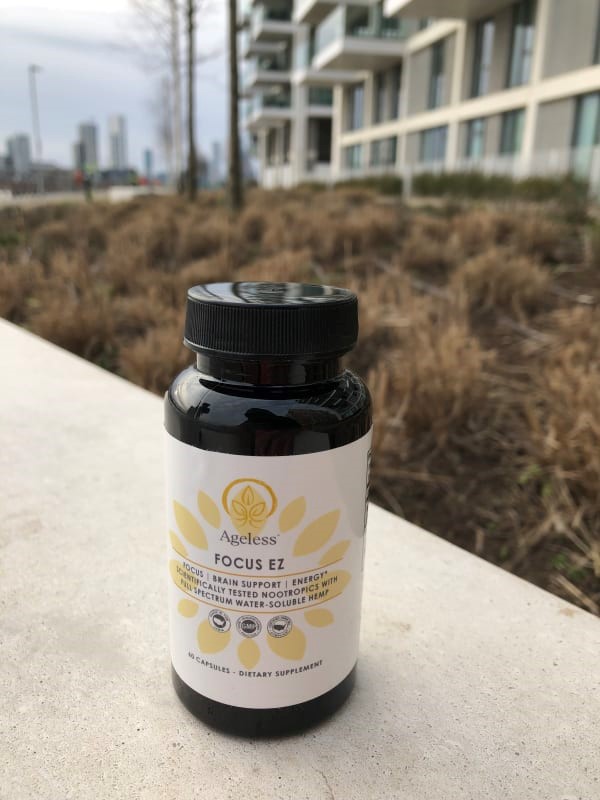 Ageless Labs' FocuzEz Brain support features a space-friendly bottle that contains a whopping 60 capsules. With a total of 500 mg of the purest CBD and a perfect blend of the right ingredients, including full-spectrum water-soluble hemp CBD, panex ginseng, L-theanine, and caffeine, you get over 12.5 mg of CBD per capsule. Since I was new to all this, I went with the recommended dosage of 2 tablets at a time.
Not only did it allow me to stay focused and sharp, but it also helped my cognition, alertness, and attention span. I was amazed by how it boosted my moods. Quite frankly, It did not feel as if I had a busy day at work.
Ageless Labs Hemp Bath Bombs are essentially an alternate means of introducing your body to the relaxing effects of cannabinoids. The precision-based formula is designed with a full-spectrum CBD with a nice blend of all the essential oils. Although I'm a fan of the oral administration of CBD, if you're not a fan of that, you can try this bath bomb.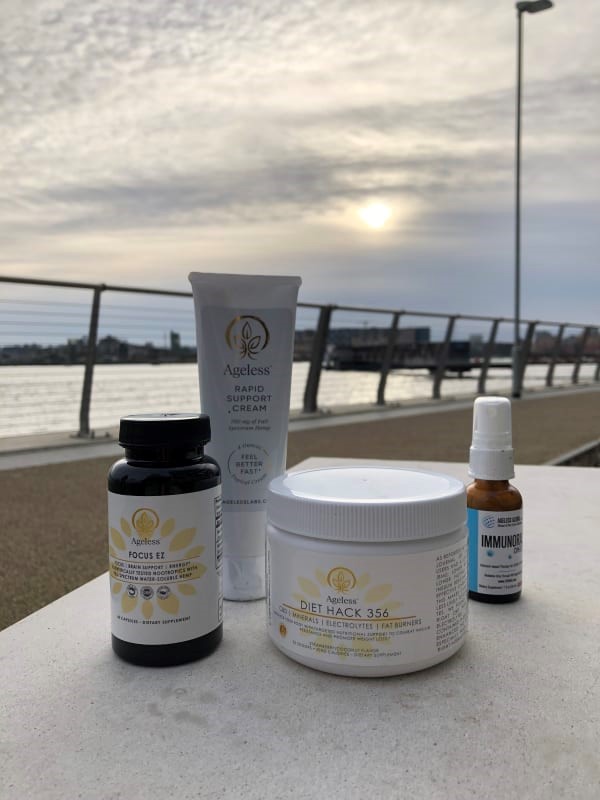 These are available in 4 different options, including pain relieve, breathe, retreat, and headache release, all meant for various purposes. I went ahead with the pain relieve and headache release. Much to my surprise, after I stepped out of the bath, I felt a sudden wave of relaxation, and my headache and pains were gone. As if they never were there in the first place.
I went ahead with the 100 mg strength of CBD, which was more than enough to put me at ease and free from the stressful state of mind.
Diet Hack Fasting Support 356
Diet Hack Fasting Support 356 has been my go-to for weight loss. It is formulated with the purest of ingredients including, water-soluble hemp cannabinoids, chromium, vanadium, magnesium, potassium, green coffee bean, guarana, green tea. I was a bit skeptical initially since I did not know how CBD could help with my weight loss.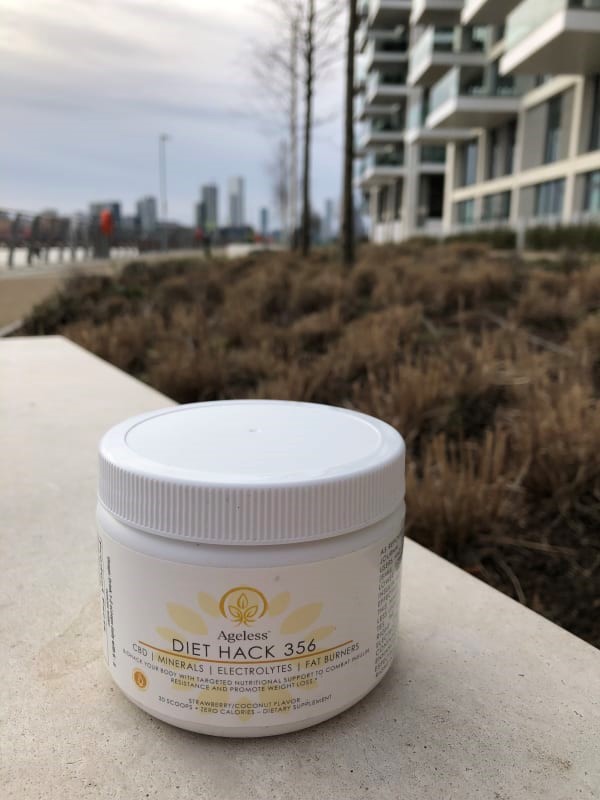 On looking it up, I found that people who consume hemp routinely have a lower body mass compared to others. Apart from this, hemp also helps regulate blood sugar levels to help keep you in the best of your health. Ageless Lab's zero-calorie diet supplement is primarily aimed to improve weight loss and fight insulin resistance.
After trying this the first time, I instantly fell in love with the strawberry-coconut flavor duo. They're both my favorite flavors, and trying a combo of these flavors in a scoop made this diet hack fasting support my go-to. All you need to do is mix it in a beverage, and you're good to go.
Each container has over 30 scoops, and honestly speaking, I had to get myself another one just because of the luscious flavor.
Ageless Cannabinoid Rich Gummies
Ageless Cannabinoid Rich Gummies are a fun means of getting away from the stressful world. Gummies have always been my go-to for stress relief when I'm traveling since all you need to do is pop a gummy or two, and poof, your stress will go away within minutes.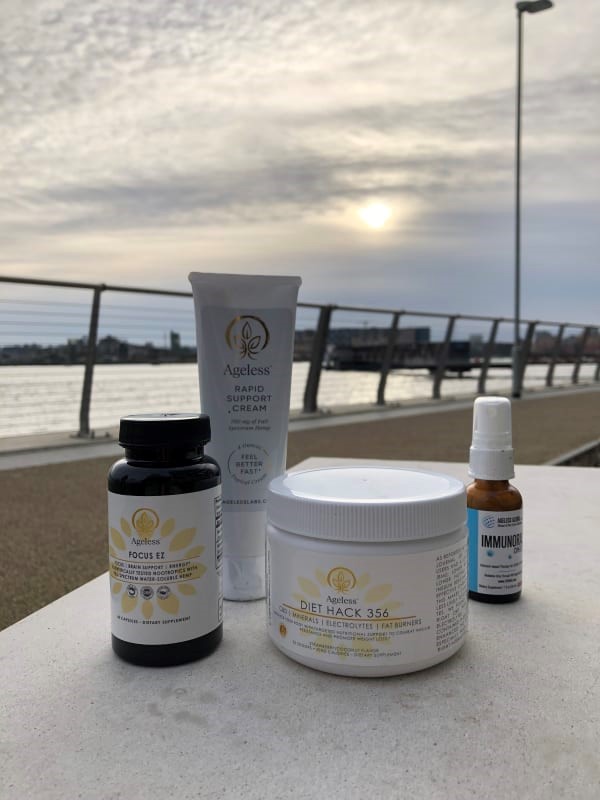 The cannabinoid rich gummies by Ageless Labs are available in three flavors with a strength of 500 mg of water-soluble hemp. These include mixed fruit, concord grape, and mountain green apple. I went ahead with the mixed fruit flavor, and right after I popped two gummies, I felt a burst of flavors in my mouth. They were just the right amount of sweet, and the flavor lasted for much longer than I anticipated.
Thirty minutes in, and the stress and tension surrounding my mind minutes before were no longer there. The best part of these gummies was the hemp cannabinoids. It targeted the endocannabinoid system, which helps maintain the internal balance of the human body.
Does your dog watch you when you pop your favorite CBD gummies? They want the same fun experience as you, and lucky for you, with Ageless Labs, your pet can finally experience the relaxing effects of CBD.
I've always believed in the relaxing effects of CBD and had no doubts in my mind when I saw the full spectrum hemp pet drop. I gave my pet dog two drops, and I could see my dog's posture relaxed and less tense. The application was super easy, thanks to the dropper that came with this full-spectrum hemp pet drop.
Since dogs love bacon, Ageless Labs have formulated this pet drop with a bacon flavor that my dog loves. With over 300 mg of CBD, two drops were more than enough to wipe away the anxiety from my pet dog's mind. Not only this, but the hemp pet drop also helps with inflammation.
Conclusion
Ageless Labs are no doubt one of the best and most reliable CBD providers based on my experience. Their products were of superb quality, and the packaging that I received these products in really showed how dedicated the brand is towards the end quality of their products.
With their extensive line of products, not only me but my dog also benefited from CBD. All of the CBD products by Ageless labs are made with the finest ingredients and are specifically formulated to give you all the relaxing sensation you need.
What I loved about Ageless Labs is their choice of flavors in all of their products. I specifically loved the gummies, and unlike other brands, their flavor lasted for much longer. The effects of all of their products were long-lasting, and I did not have to rely on anything else to put my mind at ease after a busy day at work.
Latest posts by Ekaterina Mironova
(see all)