The Best CBD Oil Tinctures To Try In 2021
August 15, 2021
1010

38 minutes read
After the 2018 Farm Bill made industrial hemp (and hemp-derived CBD) legal for production, numerous brands have presented various CBD products. In this fast-paced market, CBD oil tinctures reign.
CBD is one of the two most prominent compounds naturally found in the cannabis plant. Unlike THC, CBD isn't psychoactive, which means it won't alter the consumer's mind. Instead, CBD produces effects by interacting with the cannabinoid receptors — CB1, which coordinates mood, pain, movement, and CB2, affecting pain and inflammation. So when using CBD, you'll be essentially promoting your wellbeing, and you'll be dealing with specific conditions more effectively. 
Potential Benefits of CBD Oil
CBD has a spectrum of benefits for one's health and general wellbeing. Below, read when and why you should give CBD oil a try. 
Sleeplessness and Anxiety
The most common use of CBD oil is to treat anxiety and related issues like insomnia and PTSD. CBD acts on the brain receptors for serotonin which is a neurotransmitter that regulates mood. Essentially, CBD is a natural alternative to anti-depressants. 
Pain 
CBD is an effective supplement to manage and treat pain. The endocannabinoids, neurotransmitters that support the regulation of pain response, immune system, sleep, and appetite, bind to cannabinoid receptors in the body, helping reduce inflammation. Anecdotal evidence points out that CBD can efficiently manage joint pain, backache, and arthritis.
Blood Pressure and Heart Conditions
CBD can be a natural and effective treatment to keep your blood pressure in check. Additionally, it contains antioxidant and anti-inflammatory properties that help support heart health and prevent heart-related diseases. 
How to Dose CBD Oil
When taking CBD for the first time, start small unless otherwise recommended by a doctor. A small dose is one of 10-20 mg a day. You should take CBD in this dose for at least a week to ensure your body tolerates it well and you don't have any unwanted effects. Then, you can start increasing the dose incrementally by adding 5 mg per week until you reach the desired results.  It's not advisable to take more than 600 mg per day. 
The Best CBD Oil Tinctures
We tried and tested dozens of products to round up the best 10. We tested all products for:
Quality and effects
Strength
Source
Flavor
Transparency
JustCBD
JustCBD was founded in 2017 when the founders decided to leverage Mother Nature's secret miracle. The company was built around the belief that consumers must know what they get in their CBD products. So, it became JustCBD's mission never to misinterpret the content of its products. As a result, the company has an excellent reputation for offering high-quality, third-party lab-tested products. 
CBD Hemp Seed Oil with Honey Liquid Tincture
Taste — Honey
Strength — 50mg—1,500mg
Price —  $14.99
Independent lab results — Yes
Vegan —  No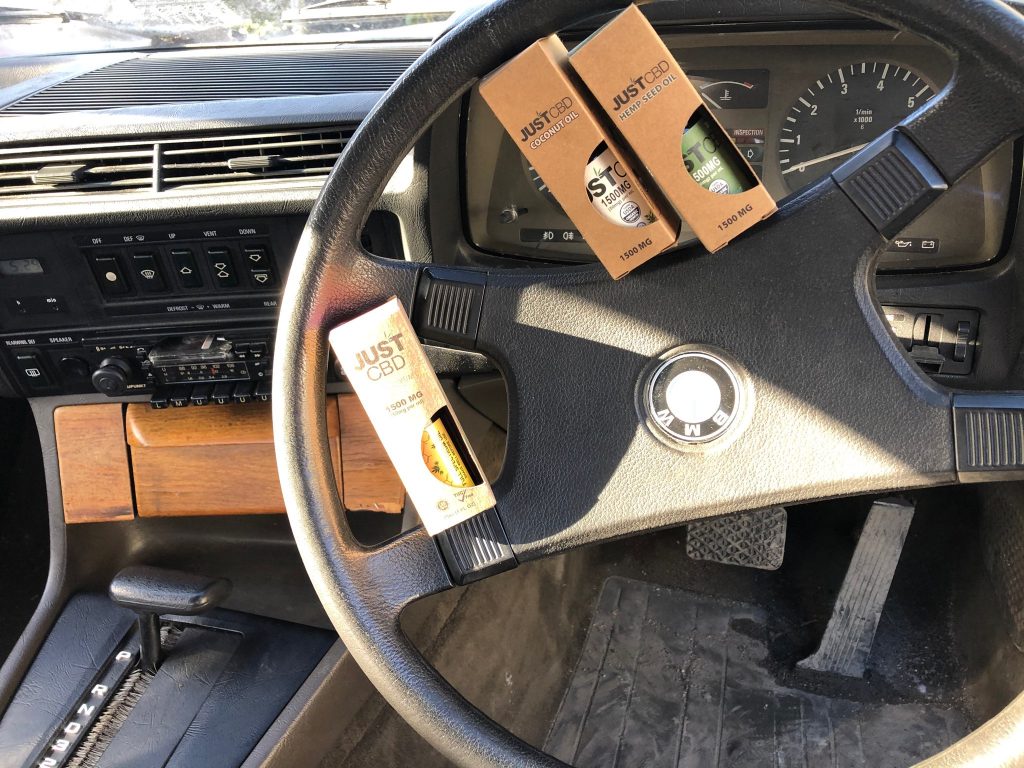 The JustCBD Honey tincture has a robust honey taste which makes the consumption process more enjoyable. It's also a great addition to food and drinks. The tincture has a golden yellow color and a thick texture. It comes in a travel-sized bottle, so you can conveniently take it with you anywhere. After two-week testing, we can confirm this is one of the best CBD oils for pain relief. 
101Hemp
101Hemp uses a patent-pending process involving a cold-extraction to keep the plant ass intended high in CBDA and CBGA. "Raw, whole plant, cold extraction just like freshly squeezed orange juice which allows our bodies to absorb all of the over 500 parts of this miracle plant", answered the company's representative when asked what makes 101Hemp special. 
Chill CBD Oil
Taste — Peppermint, Tropical Bliss, Citrus, Blackberry Cobbler, Bacon, Natural, Natural Sweet (stevia only).
Strength — 400mg—3,200mg
Price — $47—$197
Independent lab results — Yes
Vegan —  Yes
The Chill CBD oil contains organic Passion Flower and s a powerful formula that works wonders for having a good night's sleep. The full-spectrum oil comes in a variety of flavors. We tried the blackberry cobbler, and we must admit it became our guilty pleasure. It tastes fantastic and guarantees sound sleep. Plus, one of the reviewers reported positive results in managing her migraines. We were also pleased t learn that the Chill formula has helped with seizures and symptoms of adult autism.
Full Circle Hemp
Full Circle Hemp is a reputable CBD brand established in 2015. The company works closely with its partners and the team is involved in every step of the process. "We're honored to be sharing this incredible plant with you and firmly believe it to be the sustainable crop of the future. The benefits of cannabis and hemp to our minds are the biggest shift since the discovery of penicillin," said the company's representative. 
Full-Spectrum CBD Oil 15%
Taste — Peppermint, lemon, natural
Strength — 1,500mg
Price — €75
Independent lab results — Yes
Vegan —  Yes
The full-spectrum oil is a staple in the Full Circle Hemp's product line. The oil is available in sizes of 10ml and 30ml. We were sent the 10ml bottle which packs 1,500mg of CBD and a range of other cannabinoids and terpenes like CBG, CBDV, and CBC. During the testing period, I came to the conclusion that this is the perfect mid-range potency oil for treating mild anxiety symptoms and unwinding throughout the day. The oil is available in lemon, peppermint, and natural flavors. I tried the natural flavor and can confirm its flavor isn't strong or offputting at all. That said, if you're not a fan of the natural hemp flavor, choose lemon or peppermint. 
Healthy Roots Hemp
Healthy Roots Hemp is a premium CBD company built on transparency and honesty. "Our manufacturing process allows us to create small batches to ensure quality and every batch of every product we manufacture gets sent to a 3rd party independent testing laboratory to be tested. Our tests include potency, strength, heavy metals, pesticides, microbial content as well as any residual solvents just to ensure the quality of our products. These testing standards are applied to all our products and raw ingredients from tinctures, to cosmetics as well as our pet products for our furry friends," said the company's representative. 
Deep Roots Tincture
Taste — Peppermint
Strength — 1,000mg
Price — $60
Independent lab results — Yes
Vegan —  Yes
Boasting 1,000mg of CBD, as well as a variety of cannabinoids like CBC, CBG, CBV, and CBN, the Deep Roots tincture delivers well-rounded benefits. The peppermint taste is very refreshing and it's very tasty when taken sublingually or added to your morning smoothie. What is more, the flavor is all-natural without any added chemicals or dyes. The Deep Roots CBD oil acts quickie and helps you relax, unwind, and sleep better. 
PureKana
PureKana's products are made from organic hemp grown and harvested in Kentucky. The beneficial molecules from hemp are extracted using CO2 from the air. According to the company, "what distinguishes PureKana's lineup is how the company infuses CBD with both all-natural and delicious ingredients, whether it's berry flavors or a sleep aid like Melatonin. The final result is a product combining the best of multiple worlds, such as gummies, tinctures, and sleep aids."
Fruity CBD Oil
Taste — Sweet, fruity
Strength — 300mg/600mg/1,000mg/
Price — Starts at $54
Independent lab results — Available on website
Vegan — Yes
Catering to a wide range of consumers, Pure Kana created the Fruity CBD oil drops. It tastes like a sweet yet refreshing fruit cocktail. We were delighted with this product as we love CBD oils with versatile taste. In addition, it makes the CBD intake very easy. Dare we say, this product is a total game-changer. It comes in the usual 300mg, 600mg, and 1,000mg variations and promotes relaxation, calmness, and overall well-being. 
Green River Botanicals
Green River Botanicals is a reputable CBD brand based in Asheville, NC. The company is the first one in North Carolina to receive the organic USDA seal. All products are manufactured on the family-owned farm. "All of our tinctures are formulated using certified organic ingredients. The base is a blend of MCT oil and in-house grew hemp oil extract. We use organic essential oils (sourced from various plants)", says the company representative.
Full Spectrum Lemon Ginger CBD Oil
Taste — Lemon and Ginger
Strength — 50mg/ml
Price — starts at $20/4ml dram
Independent lab results — Available on the website
Vegan — Yes
The Lemon Ginger oil tincture combines a whole flower concentrate, organic MCT coconut oil, and lemon and ginger essential oils. The product contains essential oils of lemon and ginger, giving it a pleasant, citric taste. Lemon Ginger is reasonably priced, available in 4 ml dram, 10 ml, and 30 ml bottles. The 4 ml dram is the priciest — $20, but it's a great option if you want to test the product. The bottles of 10 ml and 30 ml cost $50 and $110, respectively. 
Nu-X
Nu-X is a premium CBD brand that offers a wide range of products. Thanks to its unprecedented versatility, the company is beloved by many CBD fans. Nu-x has put itself ahead of the competition by providing top-grade products at affordable prices. 
Blue Raspberry CBD Oil Tincture 
Taste — Blue Raspberry
Strength — 250 mg
Price — $9.99
Independent lab results — Available on website
Vegan — Yes
The small-sized product, the Blue Raspberry oil tincture, is excellent if you want to get your daily CBD dose wherever you go. The taste is refreshing and pleasant and will remind you of candy. We should note that the taste is pretty strong. The effects kicked in fast and lasted for more than an hour. It's priced at $9.99 and will quickly become your favorite CBD product. 
Leafwell Botanicals
Leafwell Botanicals is a clean CBD label that curates its products using botanical science. "Truly clean label products with organic ingredients where available and without the use of "natural" flavors while maintaining delicious taste," highlights the company's representative. The entire product line is created in-house. The company maintains a high level of transparency. It even offers a 30-day trial period during which you can return the products if you're not satisfied with them and get a refund.  
Full Spectrum Peppermint CBD Oil Tincture
Taste — Peppermint 
Strength — 1,000mg
Price — $50
Independent lab results — Yes
Vegan —  Yes
The Full Spectrum Tincture by Leafwell Botanicals offers 1,350mg of hem extract, 1,000 of which is CBD. The product contains less than 0.3% THC. The dropper is ideal for those who want to feel more relaxed, calm their nerves, and balance their emotions. The recommended dose is one full dropper. We found out it gives the best results if you hold it under your tongue for at least 25 seconds before swallowing. The peppermint flavor is very refreshing and invigorating.  
Elite CBD
Although a fairly new player in the industry, Elite CBD has already been established as one of the top CBD companies. Based in London, the company strives to provide the highest quality products and help enhance their well-being. The entire product range is manufactured using natural and organic ingredients. In addition, everything is THC-free and non-GMO. 
3,000mg Pure CBD Tincture
Taste — Natural
Strength —3,000mg 
Price — £104.99
Independent lab results — Available on website
Vegan — Yes
The 3,000 Pure CBD tincture by Elite CBD is very potent and fast-acting. It takes only one dropper to feel the effects. Particularly, we noticed that the oil can help manage stress and anxiety. As a result, it can be an amazing addition to your bedtime routine. The tincture has a natural hemp taste which is actually pretty pleasant. That's why it's also great when added to smoothies or coffee. 
Alpinols
Alpinols is a Swiss brand that produces top-quality CBD products. The company has over 15 years of experience in cannabis cultivation and 25+ years in organic farming. The brand's mission is "to make high-quality Swiss CBD accessible to everyone; for a balanced, stress-free and healthy lifestyle. Trust, research, innovation, quality, and transparency are the most important values for us."
Zero CBD Oil  
Taste — Natural
Strength — 500mg
Price — €42,90(approximately $52.19)
Independent lab results — Yes
Vegan —  Yes
Alpinols Zero CBD oil is a THC-free, broad-spectrum CBD oil enriched with raw, Bio-Suisse certified materials. The unique manufacturing process makes sure all of the cannabis plan's health benefits are retained. Even though the flavor is natural, it's delightful. We found out this oil is very effective for dealing with headaches and insomnia. Additionally, taking 1-2 drops a day can be very helpful when experiencing menstrual cramps. 
Altwell
Altwell is a CBD brand committed to helping consumers achieve calmness and comfort. The family-owned business offers a range of products manufactured with the highest quality and taste while having consumer satisfaction in mind. What is more, the company prides itself on its transparency level and cruelty-free status.
Broad Specturm Balance CBD Oil
Taste — Mint, Lemongrass, Honey Ginger, Pineapple, Unflavored
Strength — 750mg
Price — from $34.99
Independent lab results — Yes
Vegan —  Yes
Manufactured from high-quality and ethically sourced hemp, the Altwell Balance tincture packs 750mg of broad-spectrum CBD. The tincture is great for the days when you need some extra boos of balance and calmness. It's fast-acting and delicious. The Balance CBD oil is available in multiple flavors — lemongrass, ming, honey ginger, or pineapple — and there's an unflavored version too. It's great when added to a hot or cold beverage but it's also tasty when taken on its own.
Farmer & Chemist 
Farmer & Chemist is a unique CBD brand built by scientists and pharmacists. The products are manufactured with a pure and concentrated formula to ensure users get the right amount of CBD to elevate their health and wellness.
Steady Going Natural 1000mg PCR CBD Oil Tincture 
Taste — Natural
Strength — 1,000mg
Price — $95.99
Independent lab results — Yes
Vegan —  Yes
The Natural tincture opens the path to a life without pain. The natural-tasting tincture allows for flexible use which means you can either place a drop under your tongue for an all-around effect or rub the affected area to treat your pain locally. We tried it both ways and we can say we were surprised by the product's potency. Ultimately, it's your choice how you want to use this CBD tincture but rest assured, you'll quickly feel its benefits. 
Cannacares
Focused on delivering top-quality and highly effective CBD products, Cannacares is a brand that has grown in popularity in recent years. Upon our review, we learned that the company manufactures all products in the UK. "The CBD oils are manufactured using CBD Isolate, MCT oil, natural flavorings, and then a specific botanical ingredient that enhances the specific theme," says the company representative. The Cannacares tinctures come in 30 ml bottles and contain 3,000mg of CBD, making them a top pick for people suffering from chronic pain.  
Immunity CBD Oil 
Taste — Tangerine
Strength — 10% (3,000 mg CBD in 30 ml)
Price —  £49.99 (approximately $69)
Independent Test Results — Available on website
Vegan — Yes
Cannacares Immunity CBD is a tincture oil infused with Vitamin D. The product formula is the same as other Cannacares oils. The company produces oils using high-quality CBD blended with MCT oil and natural flavorings. This particular oil has a pleasant tangerine taste. We noticed that it's very easy to include oil in your daily diet. The taste is mild yet refreshing. 
Latest posts by Ksenia Sobchak
(see all)