Full Spectrum CBD Oil vs CBD Oil
November 13, 2020
1311

13 minutes read
Wondering if CBD is what you need? You wouldn't be the first! Many have heard about CBD but they are skeptical if it can be of help. While CBD remains a name that goes unmentioned on many social media platforms, there is still much that people don't know about this extract from the hemp plant. That is why it is important to stay educated about CBD so as to have the best experience possible.
You are likely to come across different options when buying CBD products. In most cases, the manufacturer of the product will outline the type of CBD on the ingredients list. Basically, the types of CBD are used to describe the type of CBD in the product.
The term CBD oil is used by so many people but unfortunately, numerous CBD brands use it wrongly and this often misleads many buyers. A great number of people use the term CBD oil interchangeably to describe multiple products.
To be fair and honest understanding CBD and all its terminologies can be quite confusing. While most CBD products would contain CBD, it is wise to note that the term CBD oil is not necessarily accurate because many CBD oil products contain several cannabinoids.
To understand where CBD oil is derived, the C02 supercritical extraction method is used to extract the oil from the cannabis plant. The method is environmentally friendly and considered safe, sustainable, and results in the cleanest and purest CBD products.
As a buyer note that CBD oil can be differentiated by their cannabinoid content. There are three main types of CBD oil namely:
Full-spectrum CBD oil
Broad-spectrum CBD oil
CBD isolate
All these types above are quite distinct from each other yet they all offer an array of benefits to the user. In this article, we are going to ease the confusion by understanding CBD oil types since it is essential when choosing the best CBD products to fit personal wellness needs. We shall break it down and learn everything about full-spectrum CBD oil and what makes it different from the rest.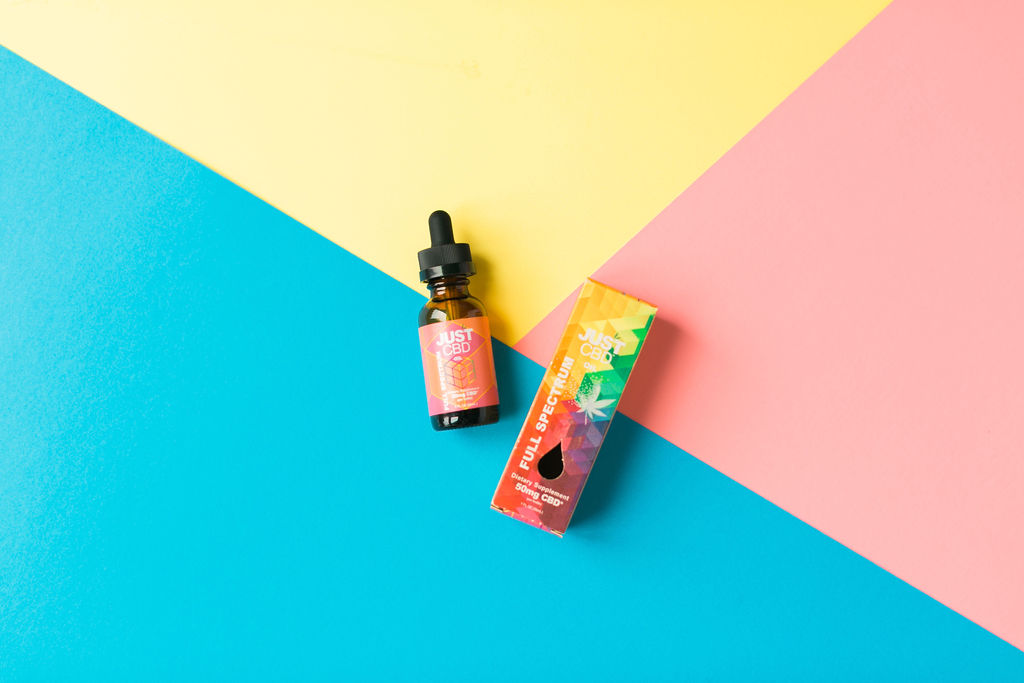 What Does Full – Spectrum CBD Mean?
The word "full-spectrum "means that the oil contains all the cannabinoids that are naturally occurring in the cannabis plant. Full-spectrum CBD oil is also known as whole- plant CBD oil. The oil contains high concentrations of cannabinoids terpenes and traces of THC found in the cannabis plant. In order to produce a true full-spectrum product, the full profile of extracted bioactive compounds must be reintroduced back into the oil without compromising any aspect of the profile. This includes the total range of cannabis compounds while also removing unwanted components like chlorophyll, fats, lipids, etc.
This means that full- spectrum has zero cannabinoids removed including THC which gives the entourage effects. In most countries, there are laid out laws and regulations in the manufacture of CBD products. For example, the percentage of THC should be less than 0.3% in the U.S and 0.2% in the U.K which makes the product have zero intoxicating effects.
It is therefore wise to check out a company's lab reports and certificate of analysis since a product that contains full-spectrum CBD oil will likely have THC in the formula.
What Does Full -Spectrum CBD Oil Contain
Full-spectrum CBD contains a wide variety of health-boosting and body-friendly compounds such as vitamins, essential fats, and protein. Vitamins A, C, E, and B are found in abundance in CBD, along with up to 20 amino acids and essential fatty acids, like Omega 3 and Omega 6.
Amino acids are said to speed your body's ability to make protein, which improves recovery time, and fatty acids are great for heart health. The original plant's terpenes and other cannabinoids have the following benefits:
Terpenes- These are original compounds that provide the unique aroma and flavor in cannabis plants and influence its effects by interacting with cannabinoids. Cannabis terpenes support other molecules in producing desired effects.
Scientific research also indicates that terpenes play a huge role in not only interfering with the intoxicating effects of THC but also creating synergy with phytocannabinoids and increasing their therapeutic value. Some of the prominent terpenes in cannabis include:
Myrcene- Besides carrying the earthy taste and aroma associated with the cannabis plant, it is an effective anti-inflammatory. A study done in 2015 suggests that Myrcene may help in treating osteoarthritis and an excellent pain-reliever.
Pinene- It has anti-inflammatory properties and may help protect from ulcers and improve airflow into the lungs.
Limonene- It boosts the immune system, alleviates heartburn symptoms, and is used as a solvent to dissolve gallstones rich in cholesterol.
Terpinolene- research has identified terpinolene as a potent anti-oxidant and also has sedative effects. Studies say that it may eventually be used to decrease cell proliferation associated with cancer.
Bisabolol- it's frequently used in fragrances and cosmetics. It brings about healing effects on the skin and reduces skin inflammation.
Nerolidol- Used widely in cosmetics and cleaning products. Studies reveal that it has anti-fungal, antioxidant, anti-microbial, and anti-inflammatory effects.
Linalool-It carries a pleasant floral aroma used in cosmetics and cleaning products. It has been found to inhibit the growth of fungal infections outside the body, particularly as they arise from yeast infection candida. Besides, it has sedative properties and anticonvulsant properties.
Flavonoids
They are organic compounds and like terpenes, they produce the aroma, flavor, and color in cannabis.  They play a major role in the pigmentation of cannabis responsible for the different colors of cannabis plants. Scientists have identified more than 20 flavonoids in cannabis. These organic compounds are said to have anti-oxidative, anti-inflammatory, and anti-mutagenic properties. They include:
Cannflavins A, B, and C- Reduces inflammation by preventing the production of prostaglandin E2 hormone.
Orientin- Acts as an anti-oxidant, anti-biotic, anti-inflammatory, and neuro-protectant.
Kaempferol- Has anti-inflammatory and anti-oxidant properties. May be used to assist in the treatment of depression symptoms and help prevent coronary heart disease.
Apigenin- Has anti-oxidant, anti-inflammatory, bone-healing, and cancer-fighting properties. It is said to help fight bladder cancer, specifically.  It helps reduce anxiety and acts as a sedative.
Cannabidivarin (CBDV)
It has the following properties: anti-convulsion, anti-inflammatory, and anti-nausea as well as its impact on pain and mood disorders. It's particularly effective in providing symptom relief for Crohn's, HIV/AIDS, and MS.
Cannabigerol (CBG)
It is a non-intoxicating cannabinoid found in cannabis known for its many potential therapeutic benefits such as anti-bacterial, anti-microbial, and anti-inflammatory properties. Other studies reveal that CBG has pharmacological and medicinal values such as neuroprotective, anti-tumor, appetite stimulant, and anti-bacterial properties.
Cannabinol (CBN)
It is formed after tetrahydrocannabinol (THC) breaks down after long periods. Though not popular, CBG boasts of a wealth of potential medicinal properties such as potent sleeping aid (anti-insomnia), anti-bacterial, anti-inflammatory, anti-convulsant, potential painkiller, appetite stimulant, and bone cell growth stimulant.
Cannabichromene (CBC)
The compound has anti-inflammatory, anti-depressant, anti-fungal, and anti-cancer properties.
Why Choose Full- Spectrum CBD?
Full-spectrum is believed to be the best to experience the entourage effect and doesn't go through a lot of processing and refinement. It is perfect for those who want to embrace all the benefits of the whole hemp plant. The combination of multiple cannabinoids and terpenes plus flavonoids will have a greater and profound impact.
While buying CBD oil can be a daunting task since you want to be careful what you put inside your body. To ease the buying process and make a reasonable decision always have the following in mind:
Look for products grown from organic U.S grown cannabis because it is subjected to agricultural regulations. It is chemical and pesticide-free.
Go for products that have undergone third-party testing.
Always go through the ingredients list to see what suits your preferences.
How to Take Full Spectrum CBD Oil
Full-spectrum CBD usage ranges from cosmetics products, pet treats, edibles to even clothing. A great number of CBD companies offer a wide range of full-spectrum CBD products that include capsules, oils, tinctures, gummies, vapes, and hygiene products. Today, you can browse online and find a reliable CBD brand that has numerous quality products that will best suit your needs and desires.
Final Thoughts
In a nutshell, full-spectrum CBD oil products are hemp extracts that contain a variety of plant compounds including cannabinoids, terpenes, and flavonoids. A 2015 study conducted by Hebrew University in Jerusalem's Hadassah School concluded that full-spectrum CBD oil is more effective at treating inflammation problems compared to other types.
It is more imperative to also be on the lookout when buying CBD products by ensuring that they are hemp-derived CBD oil for it contains low THC concentrations and the only legally viable option. Do not be carried away by products that have exaggerations and claims about curing diseases and conditions.
Since full-spectrum contain fewer traces of THC which are less than 0.3%, those subjected to a regular drug test may fail. It may still show up on a drug test. For people who are sensitive to THC, broad-spectrum, and CBD isolate is the best alternative.
Latest posts by Ksenia Sobchak
(see all)