Best Nicotine Salts for 2021
June 16, 2021
1009

10 minutes read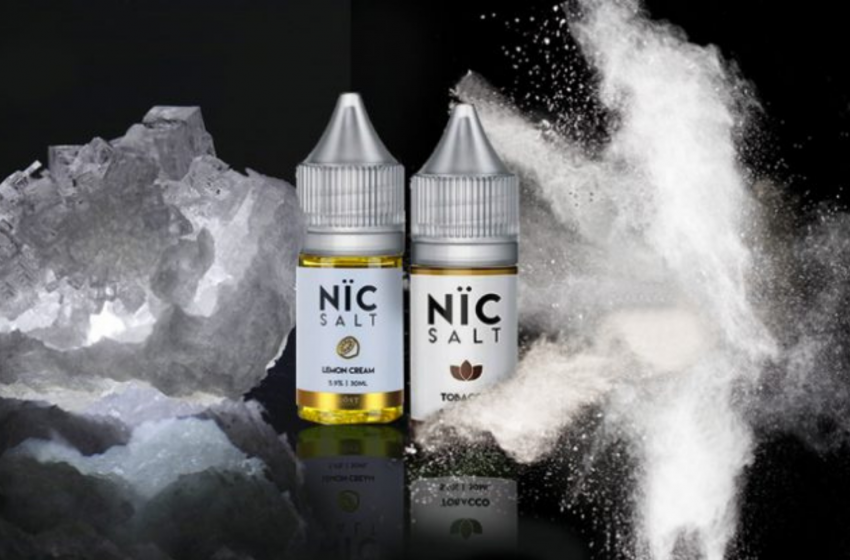 Nicotine salts, which are perfect alternatives to freebase nicotine e-liquids, have taken the vape industry by storm.
In this article, we are going to take a look at the Best Nicotine Salts for 2021. Most of these vape juices should be used with MTL (Mouth to Lung) vape kits, as they have a well-balanced VG/PG ratio.
Nic salts are nothing new, as they have been around in the market for many years. However, up until recently, the vape fans only had a couple of options when it comes to flavor choice.
Luckily, now you can diversify your vaping experience by trying out nicotine salts in different flavors.
What are Nicotine Salts?
Standard nicotine vape juices have high pH levels, which increases their alkalinity. This high alkalinity causes vape users to experience harsh throat hit when they take puffs.
On the other hand, nicotine salts, which also go by the title nic salts, have lower pH levels, which makes them less alkaline than their freebase counterpart. Due to this, vape users will experience a velvety throat hit sensation in each draw.
The Best Nicotine Salts for 2021
With all the new nic salt products coming out each day in the market, it can tricky for novice vapers to make informed buying decisions.
We have put together a list of some of the most satisfying nic salts available in the market.
1. Honey Dew Ice by SaltBae50
Feeling parched under the scorching summer sun? Honey Dew Ice is a must-have nic salt flavor for all those people who want to beat the summer heat.
The nic salt features a tantalizing combination of light honeydew melon and icy menthol, which is a treat during the summer season.
Quench your thirst upon inhaling this tropical nic salt flavor. The smooth honeydew breeze soaks your every taste bud and gives you a satisfying feeling. Upon exhaling, you are welcomed with a blast of menthol flavor.
It comes fitted in a standard 30ml e-liquid bottle. This nic salt is available in nicotine strengths of 25mg and 50mg.
2. Crispy Coffee by Large Salts
Features a decadent dessert combo, this nicotine salt by Large Salts is a must-have for all caffeine lovers out there.
The complex dessert blend presents you with a combo of fresh caramel-glazed doughnuts paired with sweetened dark coffee when you inhale. Upon exhaling, it leaves your taste buds drenched in rich cream flavor.
With its standard 50% VG / 50% PG formulation, it comes in a 10ml e-liquid bottle. You can get it for three different nicotine strengths by volume: 5mg, 10mg & 20mg. Only chronic smokers should opt for a higher nicotine concentration.
3. Lemon Tart by Dinner Lady
Inspired by everyone's childhood favorite lemon pudding, this nicotine salt e-liquid boasts a striking combination of citric lemon curd topped with gooey meringue, which is finally enveloped in a thin pastry crust.
Upon inhale, you get to enjoy zesty lemon curd flavor coupled with thick meringue that creates a remarkable duo. When you exhale, it leaves behind notes of buttery pastry.
It comes fitted in a standard 10ml e-liquid glass container that is protected with a childproof cap for maximum safety. You can get it for two different nicotine concentrations: 0mg and 20mg.
4. Yellow (Sweet Caramel Pear) by Salty Dawg Nic Salts
This nicotine salt e-liquid by Salty Dawg features a striking combination of sweet pears and rich gooey caramel.
The richness of thick caramel and the sweetness of fresh pears instantly satiate your sweet tooth. Each puff gives a sugar delight to you, which makes you wanting for more of this dessert delight.
It comes in a 30mL unicorn bottle that is topped with a child-resistant cap. This nicotine salt is available in nicotine strengths of 35mg and 50mg.
Make sure not to use this nic salt in vape devices that reach sub-ohm resistance. It is recommended to use this nic salt with pod vape systems with ultra-low output.
5. Mango Bomb by VGOD Saltnic
Get ready to treat your taste buds with this tropical goodness, which offers a deliciously strong flavor of fresh mango slice that ends with subtle sweet tones of mango fruit.
This nicotine salt flavor by VGOD takes the vape fans to an exotic paradise where they get to indulge the decadent sweetness of mango fruit.
When you inhale, you get to taste a gratifying tropical mango flavor blast that will cover your taste buds. Upon exhalation, you will be treated with a mango aftertaste that is smooth and subtle.
With an e-liquid capacity of 30ml, you can opt for this flavor for nicotine strengths of 25mg and 50mg, depending upon the nicotine tolerance of your body.
Crafted for ultra-low wattage vape devices, this nic salt should never be used with a sub-ohm vape device.
6. Fizzy Cherry Cola by Ohm Brew
Juicy, fizzy, tangy – this nic salt flavor by Ohm Brew is a must-have for you if you want to beat the summer heat and satiate your sweet tooth!
Get ready to get your mouth flooded with the class cola goodness of this vape juice. When you take a deep puff, it fills your taste buds with a fizzy cola drink. Upon exhale, you get to enjoy sweet and sour cherries.
With its 50/50 VG/PG formulation, you get to produce dense vapor clouds and enjoy a satisfying throat hit.
This e-liquid comes in a 10ml e-liquid bottle that is protected with a childproof cap. You can get it for four different nicotine strengths, depending upon your daily nicotine needs.
Conclusion
We hope you enjoyed our recommendation of the Best Nicotine Salts for 2021.
The popularity of pod systems and nic salts has revolutionized the vaping landscape, as you can now cater to your nicotine needs using new and innovative vape devices.
Using nicotine salts, you can quickly absorb nicotine in your body by taking fewer puffs from a vape device. Make sure to try out these new nic salt flavors to enhance your upcoming vaping adventures!
Latest posts by Elena Ognivtseva
(see all)